Meet The Team
Our Leadership.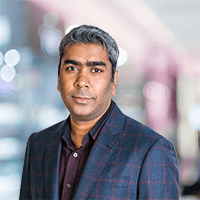 Rigvinath Chevala
Chief Technology Officer
United States
Rigvi Chevala is Evalueserve's chief technology officer (CTO). He has more than 16 years of experience leading high-performing product engineering teams in building enterprise-scale products and applications.
In his current role, he is the global head of all technology teams within Evalueserve and works with multiple lines of business to assess, strategize, and deliver software products and projects based on market and customer needs. Prior to joining Evalueserve, Mr. Chevala served in various leadership roles at Trimble, MRI Software, and Brandmuscle to lead strategy, delivery, and implementation of enterprise-scale SaaS products. Mr. Chevala started his career as a full-stack software engineer.
Over the years, he has worked with several technology components such as C#, Java, JQuery, AngularJS, SQL Server, Oracle, Github, TFS, Jira, Jenkins, Teamcity, and several other toolsets. Mr. Chevala holds a master's degree in computer and information sciences from Cleveland State University and a bachelor's degree in computers and electronics from Jawaharlal Nehru Technology University in Hyderabad.