Model Risk Governance
Elevate Model Risk Governance
Enhance visibility and achieve compliance with customizable and scalable solutions suited to meet the demands of today.
Model Risk Governance
Modernize Your Solutions to Keep Up with Evolving Demands
Model governance teams are faced with outdated inventory and governance tools that cannot keep up with the current imperatives of model risk management. With the emergence of new model classes and the use of End User Computing Applications (EUCAs), model governance teams are constantly under pressure to ensure they manage risks effectively.
Furthermore, the complexities of managing a model estate across multiple legal entities and regulatory frameworks, along with expanding regulatory expectations from the Board of Directors, have added more pressure on the model governance function.
At Evalueserve, we understand the need for new solutions to meet these new challenges and can offer innovative services and tools to ease the burden and enhance your model risk management strategies. Evalueserve combines the expertise of MRM Practitioners with the efficiency of technology to work with model governance teams across the value chain. In fact, Evalueserve was recently named a Category Leader for Model Risk Governance solutions in Chartis Research's RiskTech Quadrants. 
"What I like about your platform is that it is designed by practitioners. You understand the challenges."
Large European Bank
"We think of Evalueserve as a true partner in risk transformation."
Large Canadian Bank
Increase Transparency with Enhanced Reporting
Discover patterns and gain deeper insights with canned and bespoke reports on the entire organization's model risk profile against the model risk appetite framework.
Act quickly with Business Unit model risk scorecards.
Get a comprehensive view of risk for a suite of interconnected models through model dependency analysis.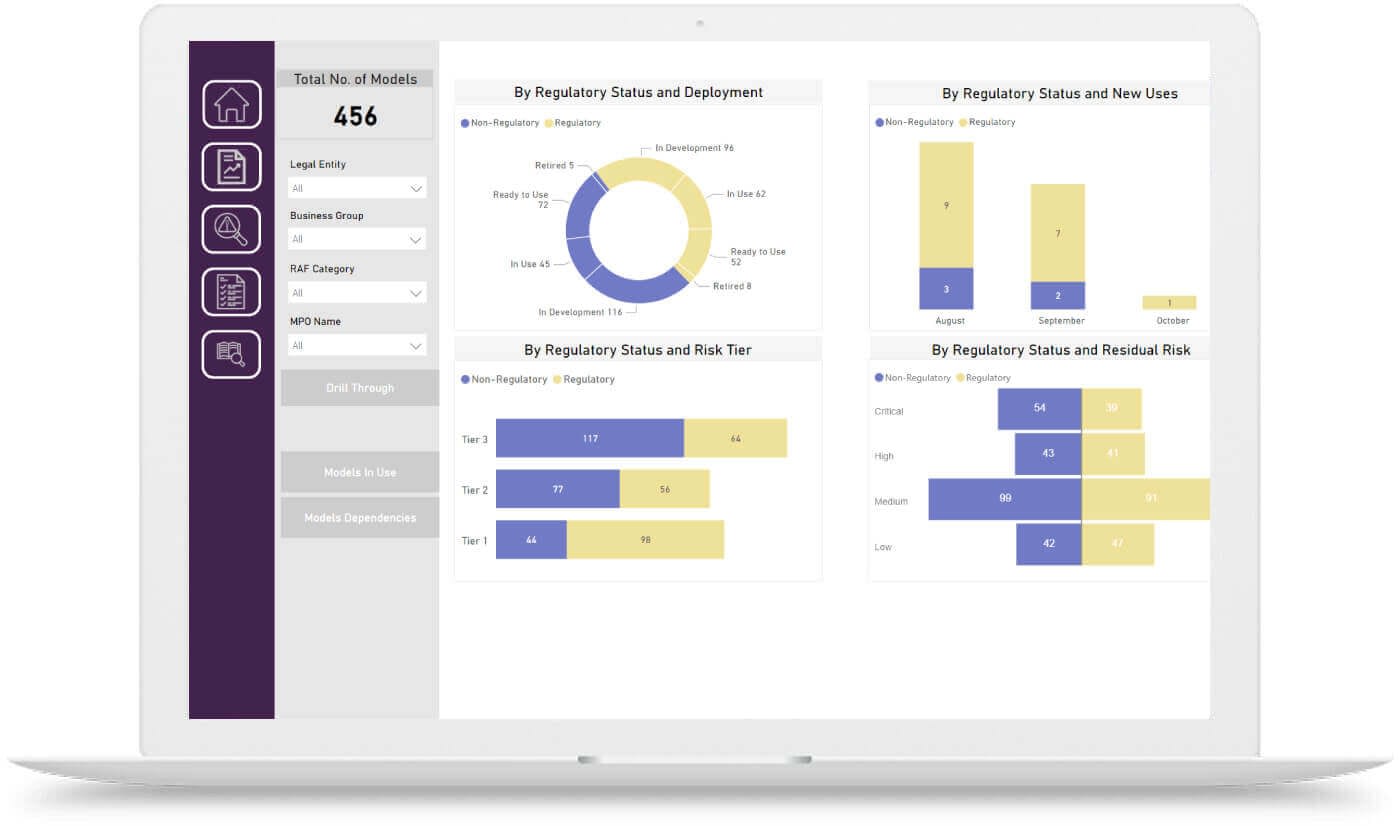 Manage Model Inventory with Ease with MRMOne
Simplify model lifecycle management and improve model documentation, transparency, and compliance with digital solutions powered by MathWorks' Modelscape Solution.
Onboard models and EUCAs; maintain updated model owners/users information, link to repositories, track dependencies, and other updates.
Manage system reconfigurations covering new data fields, customized workflows, and integrations with other systems.
Support Model Governance Processes
Model inventory operational services create time for truly managing model risks.
Run attestation programs, create validation schedules, manage workflows for MRA/ MRIA/ Regulatory remediation programs.
Track policy exceptions and super findings and create bespoke reports and analyses on aggregate model risks, overdue items & associated roadblocks.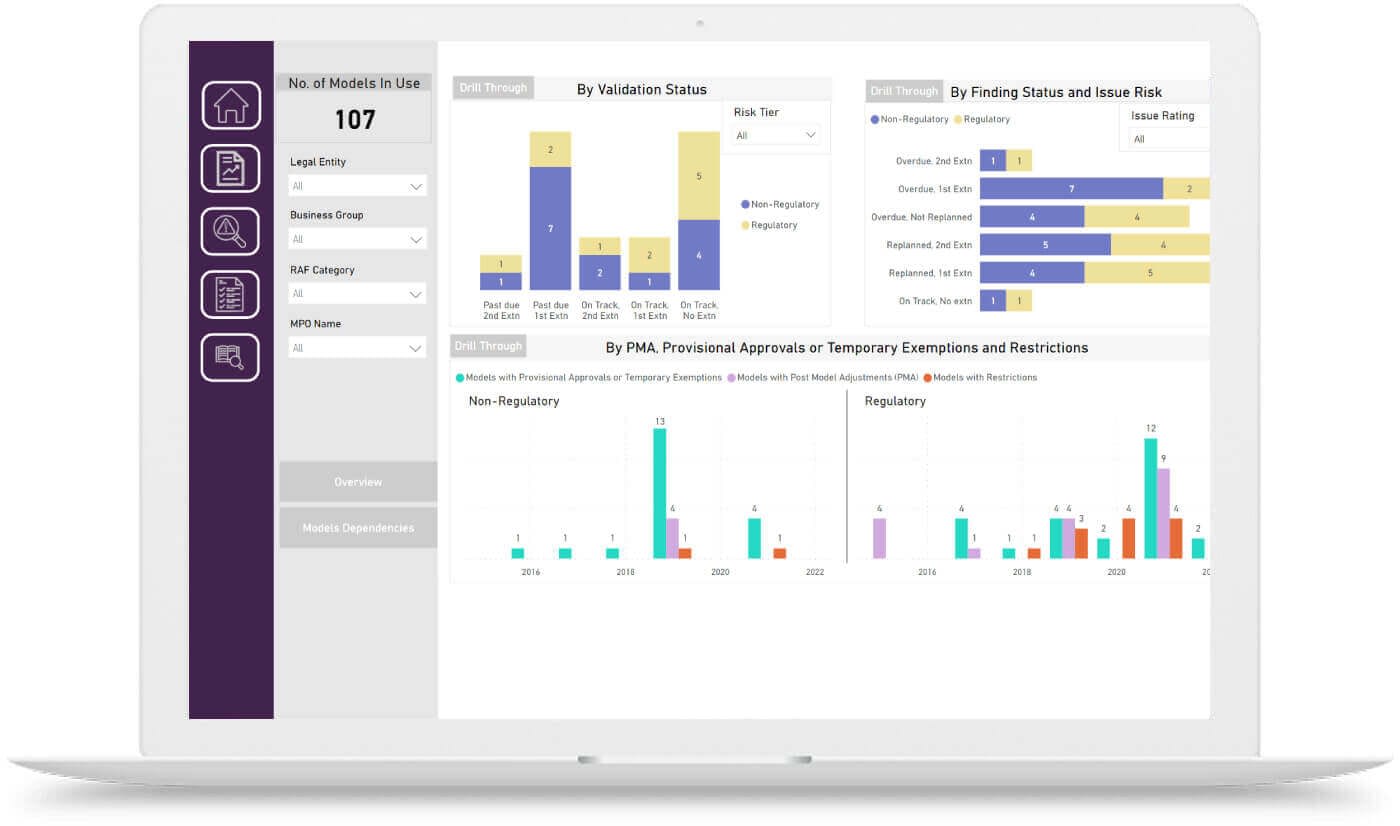 Reference Case
Model Data Repository Creates Efficiencies for Canadian Bank
A leading Canadian bank possessed a large model data set from disparate sources. Evalueserve cleaned, standardized, and transformed the data set, improving the bank's data architecture and ensuring full regulatory compliance. Evalueserve's efforts resulted in a shorter model development process and a data repository that was applicable to the broad risk landscape.
Related Resources
Optimize your outcomes.
Related Industries
Additional Industries.
Model Risk Governance
Request a Custom Demo.
Get in touch today to find out about how Evalueserve can help you improve your processes, making you better, faster and more efficient.