Ultimate Guide to Market Analysis That Provides Immediate Value
Introduction
Every business wants to grow. To accomplish this, your business needs a competitive edge.
A market analysis is an incredibly functional resource that provides competitive intelligence on your industry, market, consumer, competitors, and yourself. Given the constant change happening in all markets, to be successful you must automatically and continuously gather and filter intelligence on your market and distribute it to relevant audiences so they can make decisions and act.
Market Analysis Fundamentals
At its most basic, a market analysis helps you identify how to gain a competitive edge. It's a thorough assessment of a market that helps you determine how to position, price, sell, build, and invest in your company to be more competitive, grow market share, and better serve your customers.
Business school grads will easily tote that a market analysis is an important component of a business plan to determine if a market is ripe for you company's offerings. That's true, but it's too linear in concept. A market is forever evolving. You make a move, a competitor makes a move, regulations change with a new president, etc. A market analysis isn't a one-and-done. If you want to be successful long-term, it's a continuous activity.
"Here's the truth, most companies don't perform a consistent market analysis. In 2020, only 7% of businesses are considered insights-driven and able to continuously gather and apply market intel that differentiates them. The most advanced businesses use AI-gathered data and curated insights to grow 20+%."
Boris Evelson and Michele Goetz​
Forrester Research, Enable An Insights-Driven Business, 29 Apr. 2021
Most companies only perform a market analysis reactively – when you are launching a product, entering a new market, a competitor directly attacks you, etc. Trouble is, when you only do a reactive or ad-hoc market analysis, you are stuck in a cycle of outdated information. And worse, it's likely everyone in the company is starting to do disparate analysis themselves which is, first of call, quite inefficient, but it also means everyone is starting to diverge from a common goal.
Given the amount of data and rapid rate of change, this is problem is only getting bigger for companies.
In 2021, Innosight found that the average tenure of a company on the S&P 500 has decreased by almost 40% from 1964 to 2016. Simply put, these companies lost market share because they couldn't adapt to an evolving market. If you're still not convinced, Forrester found enterprises able to rapidly (Evelson, Boris, and Cinny Little. Evolve Data And Analytics Roles And Skills For The Adaptive Enterprise, 26 Feb. 2021) adapt grow 3.2x the industry standard.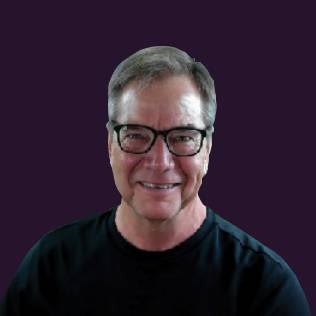 Harry Redinger
"Everyday, every week, every quarter, things change. If we're looking for them and if we're aware of them, we now can say 'My gosh, by taking this knowledge of this trend in market demand, we can tweak our mission statement or vision of success or phase a competitive element, we can take advantage of this."
A market analysis will help you understand the dynamics of your market within your industry. A market is created by consumer demand and anyone trying to capture that demand is tethered to the changing needs, motivations, and regulations in the market.  
Critical questions for a market analysis:
Story Time
Hungry is a corporate and event catering company that connects clients to local chef entrepreneurs.
The founders of Hungry evaluated the change in market demand and saw new opportunities to serve emerging demand with B2C catering, virtual experiences, pop-up restaurants, and helping to feed those in need through public and private contracts.
While 17% of restaurants closed in 2020, Hungry's catering company instead skyrocketed and posted record revenue and turned profitable.
Understanding their consumers needs and rapidly adjusting their business model to serve the shifted market set Hungry apart and helped them have a record year of growth.
"The idea you begin with is not what you end with. You need to be willing to adapt and evolve as you learn more and more about what the market is looking for."
Purpose of a Market Analysis
A market analysis gives you a realistic benchmark for business goals, reduces risk, highlights emerging trends, illuminates competition, and helps you project revenue.
To be successful in business, you need to run a market analysis... and then refresh often.
A market analysis provides a benchmark of both where your company is at currently and where competitors are to realistically determine how to approach the market to gain revenue. It helps you create a business plan to attack the market, fill in gaps, and determine market attractiveness.
A PWC survey found that companies who benchmark achieve 69% faster growth and 45% greater productivity than those that don't.
The main benefit of a market analysis:
A market analysis provides credibility and informs the business approach necessary to reach your defined objectives.
Conduct a Market Analysis
Let's get into it! There are 5 key sections in a market analysis. Each section contains, let's just say, a myriad of subsets.
The first step is to clearly identify your objective. This is the problem you're trying to solve or the question you're trying to answer with the market analysis.
Clearly defining this upfront will create team alignment on what you're solving, direct the type of research you do on the market, and help you determine the value you've gained from the market analysis.
Understanding your industry means knowing the larger landscape that you're competing in. It will expose how much demand there is and what the outlook of that demand is.
Critical questions to answer:
Best Practice: Use this to create customer personas to better understand and educate your company on the needs, interests, motivations, and demographics of your buyer.
As your product evolves, so will your buyer personas which is why continuously monitoring for emerging buyer trends and persona changes is critical for success.
2. Profile the Industry and Market
3. Profile the Target Customer
This is the part where you get to know your potential customers This step is imperative to deploying successful action. Not everyone is your ideal buyer and understanding and positioning your product and messaging according to that will make you far more successful than trying to appeal to a mass market.
Critical questions to answer:
Best Practice: Use this to create customer personas to better understand and educate your company on the needs, interests, motivations, and demographics of your buyer.
As your product evolves, so will your buyer personas which is why continuously monitoring for emerging buyer trends and persona changes is critical for success.
Profiling competitors helps you focus on your strategic position. This section gives you intel on how you can outshine rivals and capture loyal customers.
Critical questions to answer:
Best Practice: At this stage, doing both a win/loss analysis and building battlecards for your sales team helps.
Looking to start some battlecards? Get the templates here.
4. Profile Market Competitors
5. Profile Your Position in the Market
Time for a bit on introspection. Objectively understanding where you currently stand in the market is instrumental to advance your placement. This will give you a benchmark and help set realistic goals for entering and capturing more of the market.
Critical questions to answer:
Get Started Right
Insightsfirst is an AI powered and expert-curated market and competitive intelligence platform that helps you consistently monitor and adapt based on market demands.
Deliver Intelligence to Drive Decisions
Phew! You've completed the market analysis. You have excellent intel, but now you have to use it to make some pretty pivotal decisions. Because what is a strategy without execution?
When delivering a market analysis, especially to executives, make sure you're delivering the "so what" analysis, not just the information. Remember, the "so what" will change depending on your audience.
It's human nature to think the bottom line should come last, after you've built the argument. Keep your stakeholders time (and attention span) in mind.
For continuously high engagement, make sure to include the "so what" upfront and the rest focuses on recommendations on actions. This sets you up to drive results.
A market analysis contains critical information to all parts of your company. SCIP's 2021 State of Competitive Intelligence Report shows that there is about equal important for this intel cross-department.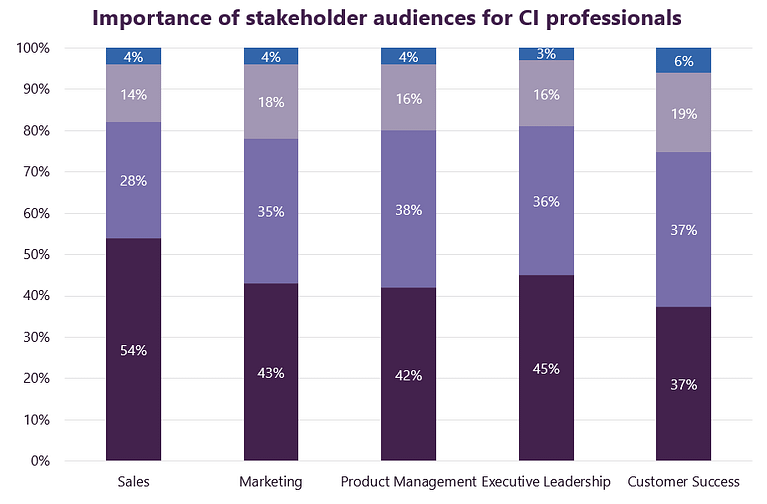 Of course, each department will have a different interest and use for the information:
The most popular ways to distribute this intel is via email and strategic meetings. More recently, CI professionals are using chatbots, podcasts, videos, and battlecards to deliver the intel in audience-specific formats.
Acting on Market Intelligence
There are copious ways to use findings from a market analysis immediately to further experiment on strategy execution without massive costs because it helps direct your efforts and scale costs efficiently.
When companies effectively use insights to drive business action, Forrester found that 67% of advanced insights-driven businesses report at least double-digit revenue growth, compared to just 26% at beginner firms (Sridharan, Srividya, and Gene Leganza. Build An Insights-Driven Business, 9 Dec. 2020).
This means harnessing and applying data and analytics at every opportunity to differentiate your products and customer experiences is fast becoming a prerequisite for success.
There are really two parts to a market analysis, and both continuously evolve. The first is finding the right strategic direction which can be answered from the data analysis. The second is execution and learning because what is strategy without execution?
It's critical that firms move beyond "data" or "insight" and focus on action and learning.
The main benefit of a market analysis:
Did You Know:
In SCIP's 2021 State of Competitive Intelligenc Report, they found that teams that actively distribute CI on a weekly basis are 17% more likely to report revenue impact. Why? Because they actively monitor their performance vs. The market and improve faster.
Immediate Actions Derived from Market Analysis
Define Target Prospects
Really the first area of immediate action post-market analysis is adapting to your target audience. This is the part that is critical to getting the execution in the next steps correct since it's where you detail the driver and motivations of your buyers.
The first adjustment comes from the buyer profile. Target the right industry and titles is naturally important. Often at the end of a market analysis we perform for clients, the client realizes they need to shift their target audience in order to capture more market share and grow revenue effectively.
Just as important, knowing what triggers and motivates a buyer provides a rapid shift in strategy. No one in sales wants to spend their time chasing a poor fit. Knowing what drives the purchase and having the ability to continuously track and alert when accounts "qualify" is a game-changer to strategic execution and closing more deals.
Case Study
Global Food and Beverage Company
A global food and beverage client we worked with was having trouble truly understanding customer needs giving the rate of change due to digitalization.
We helped them automatically track user engagements and sentiments to help optimize the customer user experience and get more purchases. This served as the groundwork for updating their UX and creating a new ecommerce website.
Because they understood the buyer needs upfront, it led to lowered operational costs, better customer personalization, and improved revenues.
Marketing Adjustments
Marketing is one of those teams with a superpower to rapidly test and fine-tune execution given the scale they work with. So, working with marketing is a rapid way to strategically apply strategy learned from the market and determine how to execute on it effectively through experimentation.
Immediate areas marketing can adjust:
Case Study
Management Consulting Firm
Management Consulting Firms publish content at an extremely rapid pace, leaving many organizations scrambling to keep-up. Execs at these firms have found monitoring competitors' content is an essential step when developing their own content marketing strategy.
Given the amount of content, having the ability to cut through the noise and make sense of new information is essential to find relevant and clear direction. Management Consulting Firm Case Study
This led to:
Help Sales Team Sell
Intelligence gathered from a market analysis can also be applied to your business development and sales teams immediately. Like marketing, this team is in a front-line position to also provide feedback on market response.
Case Study
Big 4 Advisory Firm
Given the rise in disrupted businesses and broken supply chains this past year, it's created a plethora of opportunities for financial and restructuring advisory firms. However, these firms are suffering from a problem of plenty. An information overflow is impeding their ability to sift through data to find relevant opportunities and stay ahead of competitors by ensuring effective and efficient time-to-market.
An advisory firm we worked with faced this challenge in focusing on the right opportunities. So, we started automatically tracking the market for companies undergoing triggers like restructuring, rating declines, layoffs, etc. to help them time outreach and create relevant messaging.
This led to:
Product Enhancements
It's pretty common that a market analysis is done with the main objective to determine company or product viability. So, how can a product team get immediate value from a market analysis.
First, use it to prioritize the strategic roadmap based on market trends and learnings from competitors on product comparison or strategic plans.
Second, look is what are the tactical requests customers are making. Many companies prioritize these requests based on how much a customer is currently paying which makes a lot of sense. However, if you're shifting focus into a new market and you have a customer in it already this could be a great opportunity to get good references, case studies, or notably to sit down with them and understand their tactical requests better so you can serve that market better as a whole.
Third, look at what other key tools your personas use and which are preferred in this market to plan for integrations and partnerships that will help advance your own position.
One of the elements a market analysis can reveal is how you should price your product or service. This is naturally an area that people are quick to adjust based on the results of the market analysis. Typically people are quick to adjust price based on competitor pricing. This can be quick an easy in a mature market, but assumes your competitor got pricing right and might be leaving opportunity on the table.
A market analysis provides you with:
Competitor pricing
Product comparisons
Persona buying habits and budget sizes
A lot more
Given your analysis provides you with booklet of this information, some of the most effective pricing adjustments have come from value-based pricing.
Most consumers, especially when buying SaaS, are more focused on value to cost ratio rather than cost alone, differentiating yourself as providing the highest level of value to your key persona can help you determine the right price to go to market with.
Interestingly, a study on SaaS companies from Pricing Intelligently showed companies that continuously adjusted pricing based on market findings had a 3.4x increase in LTV than those who adjusted yearly.
A market analysis will objectively show how your customers see you in the market compared to competitors and why they did or did not pick you over them. Understanding your weaknesses in the eyes of your customers will show you where to focus on improving to gain their advocacy
Some ideas to gain customer advocates:
Start a Customer Advisory Board to involve customers in decision making
Fix the most frustrating experience to improve customer results
Offer opportunities/incentives
Implement a referral program
Gamify customer onboarding so customers are more empowered, gain value, and enjoy the experience
Looking at the supply and demand projection of a market will tell you now much product you need to manufacture today in order to meet the demand and not overspend on costs. When done well, this part of the analysis should also highlight possible risks in resources necessary for production.
For example, do you have an overreliance on one vendor? What are the export taxes costing you? How much does product storage cost for unsold inventory? Are there chemicals in your product that are losing favor with consumers (e.g. microbeads, parabens).
Case Study
Global Asset Management Company
A global asset manager needed our help with creating a comprehensive and real-time solution for their product team that would support their key functions of market monitoring, innovation scouting, and strategic planning. Specifically, the team needed a solution that would:
Previously, the product team originally captured and presented the datasets above through static spreadsheets, emails, and bulky presentations. This made it extremely challenging for product managers to visualize the information and derive actionable insight from it.
Through our Insightsfirst platform, we provided a holistic view of a wide range of competitor actions, including traditional players and fintechs, emerging trends, and risks in near-real-time to the client.
We were also able to provide visual dashboards that gave product teams the ability to analyze trends and insights that previously were unstructured data.
Results:
Did you know:
In April 2021, one of the worst droughts in 50 years is hitting Taiwan, who produces about 2/3 of the world's semiconductor manufacturing. Semiconductor manufacturing takes copious amount of water to produce, this causing a global chip storage for auto manufacturers like GM and Ford, who have to then reduce production of their auto manufacturing plants. Despite high levels of demand from consumers, car manufacturers are forecasting lost operating profits in the billions.
Planning for the Future
Does a market analysis give you more competitive potential? Yes.
But, to be competitive you need to stay up-to-date and adjust your approach on fly.
Markets shift, sentiments change, politics change, competitors adjust. You can predict there will be change.
Spot these shifts before they reach the tipping point by continuously monitoring the industry, market, customers, and competitors with market intelligence.
The top-performing companies automate data collection, filtering, and trend analysis to get action-oriented insights they can use for continuous experimentation, evaluation, and adjustments.
Insightsfirst is a Competitive and Market Intelligence Platform that gathers all the information your teams need to be more competitive and distributes it with those teams in mind
Talk to One of Our Experts
Decision-ready data needs powerful technology, and knowledgeable domain experts that will make your data usable, relevant, and accessible so you can deliver business outcomes and meet new challenges.