Over the past 30 years, cement companies have been focusing on reducing CO2 emissions through clinker substitution and fuel usage management. Clinker substitution, which can potentially reduce annual global CO2 emissions by up to 1.3 gigatons, is being increasingly explored by leading cement companies. The efficacy of emerging alternative raw materials (ARMs), such as natural pozzolans, calcined clay, and electric arc furnace (EAF) slag, is being evaluated across the industry for early adoption.
Clinker Usage in Cement (2020 and 2050E) and ARM Adoption by Leading Companies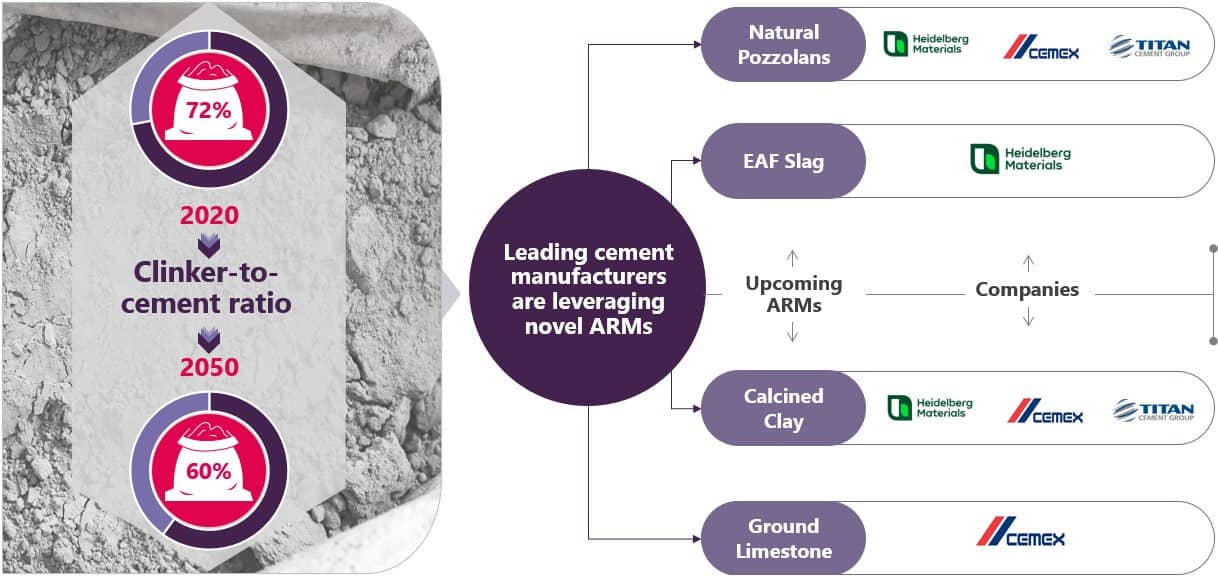 As demand for low-carbon cement increases, more and more companies are likely to adopt ARMs. Therefore, affiliated businesses are aggressively strategizing and researching to make ARMs more effective and affordable.
Plans to offer circular alternatives for 50% of its concrete products; aims for full coverage by 2030
Planning a unit in Þorlákshöfn that will grind Icelandic tuff into a fine powder for use in cement production
Partnered with CBI S.A. to construct the world's largest flash calciner, to be completed in 2024
Collaborated with ThyssenKrupp Steel, the Institute for Technologies of Metals (University of Duisburg-Essen), and Fraunhofer UMSICHT (Sustainability Research Institute) to research the use of EAF slags in the cement industry
Aims 25% RMX sales from ECOPact (low-carbon concrete) by 2025
Produced the world's first clinker made entirely from recycled minerals in 2022, at its plant in Altkirch, France
Launched calcined clay cement in the French market in 2021, as part of the ECO range
Launched the first calcined clay cement production line in Europe in March 2023
Targets 70% concrete and cement sales through low-carbon Vertua range by 2030
Collaborated with Ecocem in May 2023 to explore methods of using supplementary cementitious materials in place of clinker to develop low-carbon concrete at its RMX batching plants in France
Demand for low-carbon cement
The use of ARMs is being massively supported by increasing demand for low-carbon cement owing to factors such as cost competitiveness due to decreasing cost and increasing production; improved durability and resistance to weathering; reduced water demand; and enhanced fire resistance.
The adoption of green cement is also being driven by government initiatives, such as rebates and low-interest loans / loan guarantees for businesses that adopt green cement. For example, the UK government offers a 30% tax credit on the cost of installing energy-efficient building materials; Canada offers a rebate of up to USD5,000 for the purchase of green building materials; the UKUK offers a grant of up to GBP50,000 for the construction of green buildings, and France requires all new public buildings to use green cement.
Last but not least, lower energy costs, reduced carbon taxes, and improved brand image, all of which can yield a better return on investment, are propelling the segment to new highs.
Regulatory push
Clinker substitution regulations vary across the world, depending on the country or region. They are also evolving constantly. As demand for sustainable cement increases, we expect these regulations to become more stringent. Moreover, the cement industry is moving towards harmonization of regulations across countries, driven by a need to ensure a level playing field for businesses across markets.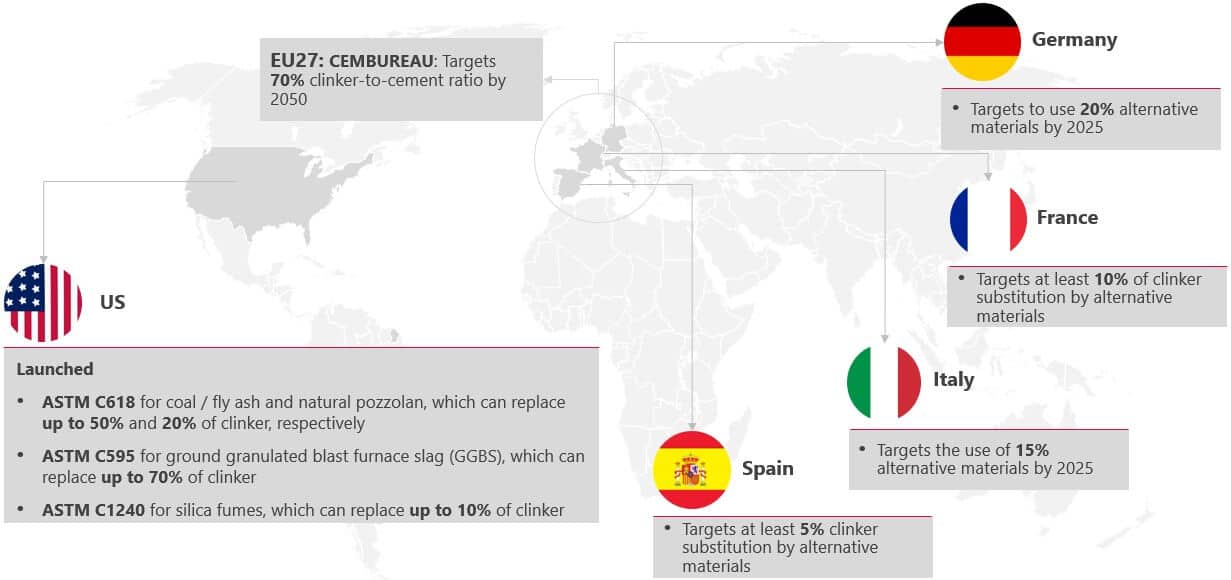 Challenges and Way Forward
Clinker substitution is likely to be a key cement industry trend in the coming years if it can overcome a few challenges. The most critical of these challenges are the absence of an adequate number of substitutes and their shortage; high cost; and inadequate performance. For example, some clinker substitutes, such as natural pozzolanas, can have a negative impact on cement performance if they are not enhanced.
However, despite the challenges, clinker substitution is a promising trend that has the potential to make cement a more sustainable building material. The cement industry is working to overcome the challenges, and substitution could become increasingly common in the years to come.