Asset and wealth management (AWM) firms offer investment and wealth management services to multiple clients, including corporations, institutional investors, and other entities. These firms are responsible for managing and growing their clients' assets, to maximize the investment returns within a client's risk tolerance.
AWM firms invest across a wide range of asset classes and investment vehicles, depending on their clients' investment objectives, risk tolerance, and preferences. Some of the investment options include equities / stock, fixed income / bonds, mutual funds, exchange-traded funds (ETFs), real estate, and multi-asset strategies.
Relevance of consultant database and investment management software for AWM firms
AWM firms play a pivotal role by providing investment advice, financial planning, wealth preservation services, and portfolio management. It is crucial to monitor all the imperative metrics to conduct real-time data analysis. Thus, many AWM firms rely on consultant databases (such as Allvue, Albourne, LCG) to have a centralized platform with all the KPIs related to performance and investment-related strategies.
A consultant database is a specialized platform designed to assist professionals in effectively managing their investment portfolios. It provides features and functionalities that help with tracking, analyzing, and optimizing investment holdings. It also empowers firms to optimize their portfolio management processes and deliver superior service to clients in a competitive industry.
Consultant databases are also used by investors to conduct detailed due diligence on prospective asset managers and to identify the best fit for their investments.
Key benefits of consultant database and investment management software
Offers a centralized and comprehensive repository, allowing firms to efficiently store, organize, and manage large volumes of investment data without any compromise in data integrity and consistency
Facilitates quick access to relevant information, enabling efficient decision-making and enhancing a firm's ability to seize investment opportunities
Helps in portfolio construction and management by providing data for asset allocation analysis, portfolio performance monitoring, risk exposure assessment, and portfolio rebalancing
Streamlines the process of calculating and analyzing performance, allowing firms to communicate investment results effectively and meet reporting requirements
Allows firms to store and retrieve historical data, perform data reconciliations, and generate audit trails, which make investment data more transparent and auditable
Provides various analytical tools and features, allowing users to compare investment performance over different periods (including year-over-year comparisons)
Offers screening and filtering capabilities that help AWM firms to narrow down investment options based on specific parameters such as sector, market capitalization, dividend yield, price-to-earnings ratio, and other fundamental or technical factors
Key considerations while choosing a consultant database and investment management software
A consultant database offers multiple advantages. It is crucial to consider the following several factors while selecting a consultant database:
Functionality and features
Scalability
Data integration and flexibility
Data security and compliance
User interface and usability
Database vendor reputation and support
Cost and return on investment (upfront costs, licensing fees, maintenance fees, etc.)
Client references or feedback
Examples of consultant databases and their process flow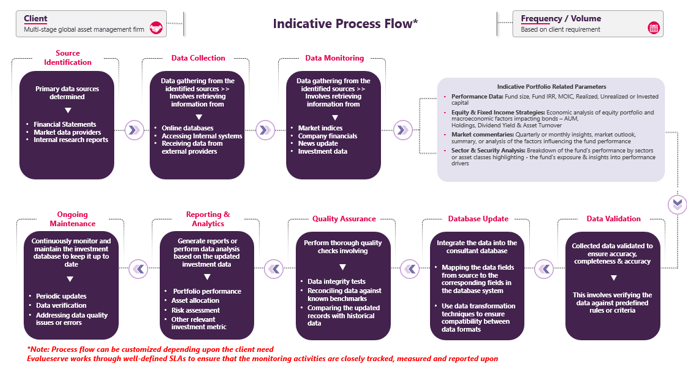 Data sources for consultant databases
Consultant databases typically rely on various sources; however, a significant portion of their data comes from AWM firms. This data usually varies as per specific requirements of asset managers and investment strategies. Some of the common types of data that AWM firms provide include
Performance data: Information on portfolio returns, benchmarks, performance attribution, risks, and other performance-related data
Position data: Details of security identifiers, market values, cost basis, and any relevant attributes associated with each position
Corporate actions: Information on events such as mergers, acquisitions, dividend payments, or coupon payments (for fixed-income securities) that affect the securities in an AWM firm's portfolio
Pricing data: Information related to security prices or valuations, including end-of-day prices, historical prices, benchmark index values, or other relevant information
Client data: Details of accounts, account balances, transaction history, or any other information necessary to maintain accurate records within an investment database
Apart from these, consultant databases rely on third-party financial data providers such as Bloomberg, Refinitiv (formerly Thomson Reuters), FactSet, S&P Global, and others. These providers specialize in collecting, aggregating, and disseminating financial information from various sources, ensuring that AWM firms have access to comprehensive and accurate data for their investment decisions.
Why asset managers are outsourcing the task of updating consultant databases
Asset managers undertake a wide range of responsibilities and are often required to update data in more than 20 consultant databases, with each having its unique format and structure. They face multiple challenges, making it difficult for them to keep their consultant databases up to date. The challenges are as follows:
Stringent deadlines: Consultant databases are usually updated on a monthly or quarterly basis at peak cycles with very short deadlines, which puts significant pressure on asset managers
Data volume and velocity: The amount of data that asset managers need to manage is increasing exponentially owing to a demand for diversification. The growing popularity of alternative investments or technological advancements (online trading platforms) is making it difficult for managers to control their internal and external, structured, and unstructured data sets, leading to challenges related to data processing, deduplication, and consolidation
Data integration: Integrating data from multiple sources can be a challenge because each data source can have its own data format, structure, and semantics
Data cleansing: Investment data tend to change constantly and are required to be constantly updated and cleansed
To solve these challenges, many firms are moving towards outsourcing solutions to organize, categorize, and localize diverse data sets with built-in flexibility, transparency, and governance. Offloading the work of managing these diverse datasets helps asset managers maintain control over their data and drive operational efficiencies.
It is imperative for asset managers to sensibly evaluate potential outsourcing vendors, conduct due diligence, and establish clear communication channels and service level agreements to maximize the benefits of outsourcing consultant database management.
How Evalueserve can help asset managers with consultant database management
Outsourcing consultant database management enables AWM firms to improve efficiency, reduce cost, enhance data accuracy, and focus on their core business activities, ultimately leading to improved performance and client satisfaction.
Evalueserve's unique and flexible consultant database update solution manages data, handles inefficiencies, and provides quality assurance.
Specialization: Evalueserve has a pool of experts equipped with in-depth knowledge and experience in investment database management and monitoring techniques. By outsourcing the low-to-mid complexity work to our dedicated professionals, AWM firms can focus on their core business objectives. The availability of our support team, even beyond regular business hours, gives an advantage to clients to address their queries during overlapping time zones
Economical: Outsourcing database management work to our in-house support team can help clients in cutting down the significant additional expenses incurred on recruitment, training, infrastructure, etc.
Right combination of mind + machine: Evalueserve drives efficiency by streamlining data-related processes and workflows by automating routine tasks, implementing efficient data integration processes, and providing timely updates. Our scalable solutions can absorb peak loads during earnings seasons, enabling AWM firms to meet tight deadlines and manage seasonal fluctuations
Accuracy: Evalueserve undertakes the day-to-day management and maintenance of consultant databases including tasks such as data cleansing, data validation, data updates, and performance monitoring. We facilitate comprehensive evaluation using a structured and multi-layer review process with clearly defined levels or stages of review. We also maintain audit trails of factors such as data inconsistencies and error logs
Shorter turn-around depending upon the asset manager's location
Accuracy and timely data update
Talk to One of Our Experts
Get in touch today to find out about how Evalueserve can help you improve your processes, making you better, faster and more efficient.