Introduction
Picture a fairly common occurrence in present times - you have just left your home for a trip to catch some sunshine and waves at the beach. The journey is long and beautiful, and your flagship smartphone runs out of charge, while you are busy taking pictures and streaming a podcast, long before your dream destination arrives. As you reach into your travel pack, you are stunned to realise you forgot to bring the charging cable. Now imagine, this person is a country, the device clean energy, and the absent cable is a power grid capable of connecting the device to its energy source. Much like charging cables, the power grid had until recently been treated like an optional extra when ordering the latest round of decarbonisation upgrades to augment a geography's clean energy generation capacity.
The pace at which the renewable energy (RE) transition pathways, particularly solar PV, and wind, are being adopted and scaled, is not reflected in the progress towards upgrades to grids, which haven't been updated in decades even in developed economies. This is leading to a situation where new clean energy projects could take from a few years to a decade, or longer, before they can be connected to the grid and actually transmit renewable electricity.
The power grid, a connected network of power transmission lines, substations, transformers, and in certain cases, storage solutions, is used by power utilities, and distributors to provide electricity to consumers. How could their pace of grid upgradation impact the transition to clean energy, without negatively impacting the state of energy security, and ultimately meeting Net Zero 2050 emissions goals? What is needed to overcome this speedbump? Let's find out: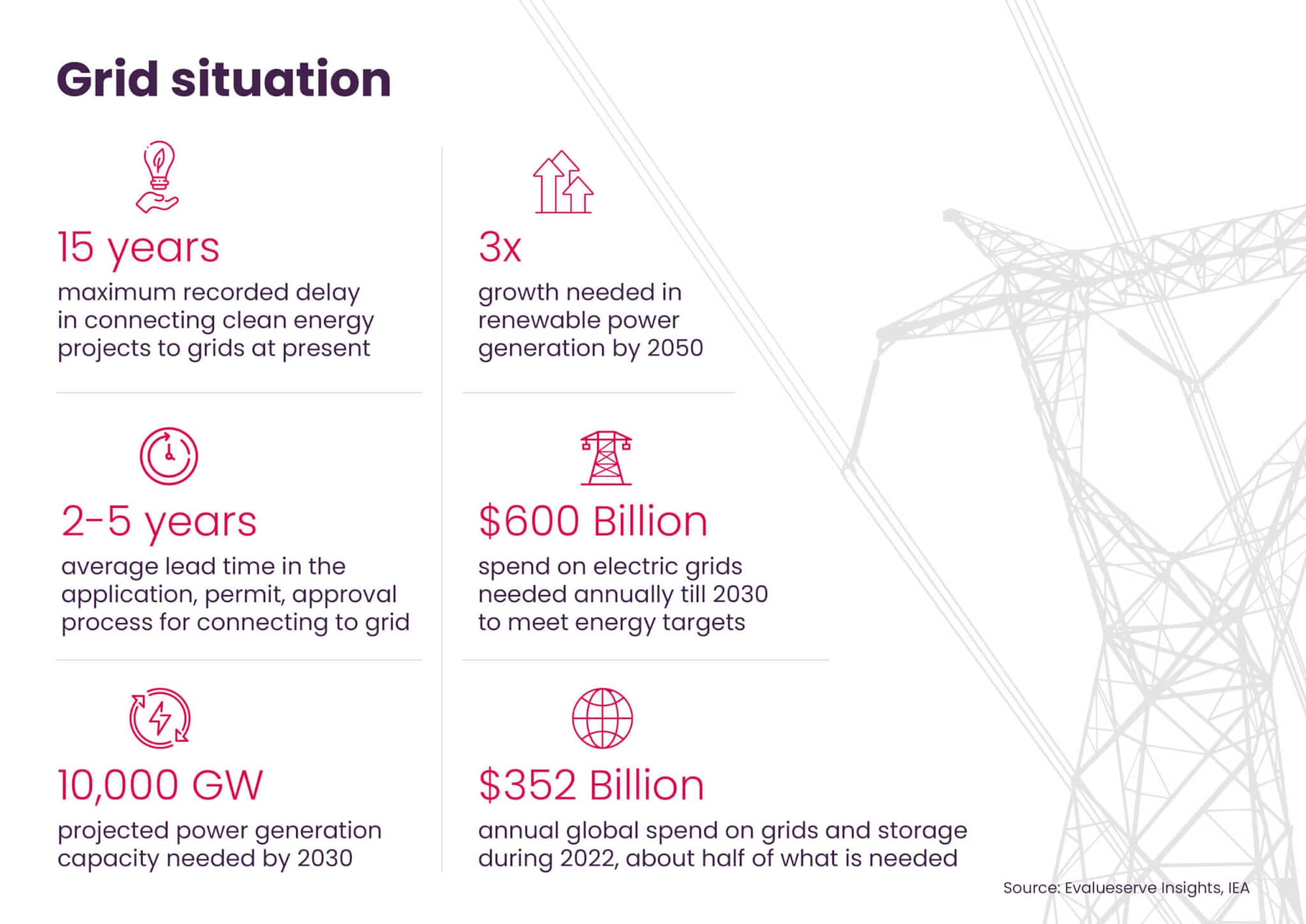 Breaking the gridlock
Meeting the grid preparedness targets will ensure energy security and help overcome the anxiety of another global energy crisis as fossil fuels continue to be reduced away from energy consumption mixes, and the needs for more and cleaner energy keep growing.
It is both a concern that governments and power distributors across geographies are collectively only waking up now to the reality of grid upgradation needs, but it is also a relief that most have, and jumped into action. However, speed is not the singular solution, neither is throwing money at the problem and hoping it fixes itself. This could have a disastrous effect on the global move to reduce carbon dioxide (CO2) emissions, and ultimately impact the achievement of Net Zero 2050 climate change mitigation targets.
The grid represents resilience, one of the overarching pillars of a clean, green energy future – efficiency, security, and resilience, intersecting at the ultimate target of sustainability. And resilience cannot be sped up without overcoming the compromises of these other essential strengths.
Many geographies have announced funds running into the deca-billions and some even into hecta-billions for grid augmentation and upgrades, the high cost of hastily building power infrastructure will result in the same being passed onto the consumer, potentially defeating the purpose of energy security.
This is the time for pooling resources, experience, expertise and treating the advent of this new renewable energy economy as a chance at upping the collaborative problem-solving capabilities of this planet's residents. There are two distinct approaches we continue to witness in the bigger picture – those that would clean up house before jumping to provide services to others, and those beginning with collaborative efforts to shore up themselves and their allies to build towards a common base target.
The rapid green energy industrialisation presents hitherto unprecedented opportunities for those engaged with either approach. So long as they are inter-connected with the larger aim of ensuring the steps of their chosen decarbonisation pathways align towards the common goal of limiting global temperature rise to 1.5 degrees Celsius above pre-industrial levels, by 2050.
Get decarbonization publications delivered to your inbox by filling out the form below.