The Need for MRM Software
As model risk management (MRM) as a function evolves, the technology landscape is changing with it. Due to the increase in model usage, the growing complexity of models, and increased regulatory scrutiny, MRM teams are overwhelmed with demand and struggling to keep up.
Model risk management leaders would typically look to expand their teams to address this issue. However, adding headcount is very costly, and will only minimally increase capacity. Furthermore, hiring has become extremely difficult as talent is proving to be harder and harder to find.
Many MRM heads are instead turning to automation to solve their capacity issues. By automating repetitive processes, highly paid quants can spend their time on tasks that require their specific level of expertise.
While some firms have successfully built in-house solutions to automate their MRM processes, we've also heard from numerous clients who have run into several roadblocks in their attempts. Building model risk management tools internally requires technology professionals with an understanding of the MRM function, which can be difficult to find. It also takes considerable time to devise, develop, and implement the solutions.
Alternatively, there are software options in the marketplace that are readily available. We have put together a market map of these model risk management tools, including point solutions that can be plugged into a single pain-point in the value chain, as well as fully-fledged platforms that run across your MRM functions.
The Market Map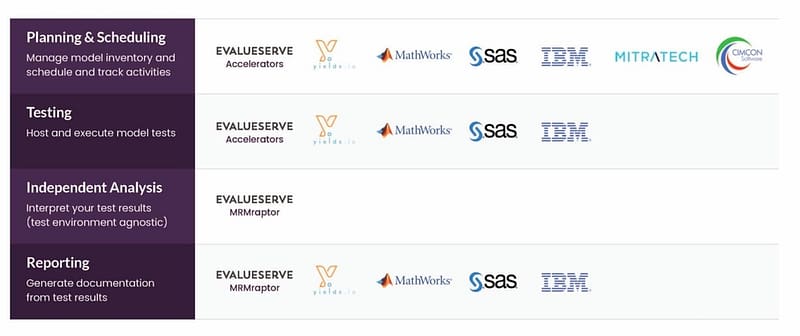 The map is divided into four key features: Planning & Scheduling, Testing, Independent Analysis, and Reporting. These features align with the different pieces of the MRM value chain. You'll notice that MRMraptor stands alone in the Independent Analysis category, as the only product that interprets results from tests run in your own environment. This makes MRMraptor quick and easy to implement, as it runs alongside your existing infrastructure, enabling you to ramp up your capacity faster.
To learn more about how software can scale your MRM team's capacity, you can speak to one of our MRM automation experts.