Researchstream: All-in-one Workflow, Knowledge Management, and Productivity Tool
The future is here…
When governments across the world announced sudden lockdowns to curb the spread of COVID-19, companies and employees alike were ill-prepared to work from remote locations, especially for long durations.
The past 18 months have taught us to create solutions and adapt ourselves to deliver results / drive business growth. Companies and employees have become more creative in dealing with the emerging situation. However, the approaches/methodologies have remained vague and inconsistent, be it across organizations or within teams.
Research shows that companies with access to workflow and knowledge management technology solutions benefitted significantly during the past one and a half years, compared to those who continued operating conventionally. More and more firms are realizing the need to invest in technologies that aid collaboration, increase productivity, boost employee morale, facilitate self-service, and advance business growth.
The successes encountered by a category of businesses show that all firms need reliable yet agile workflows that can be customized. Firms are rapidly investing in technology solutions to help their teams collaborate and deliver results. Consequently, in the near future, we expect to see a 'hybrid' operating model become the 'new normal' for most professional services firms.
… are you equipped for it?
In a market bursting with products, choosing the right tools and platforms is the key to success. Generic workflow platforms fail to address the niche requirements of specialized functions such as research, analytics, and/or design, primarily because their workflow is not entirely rule-based.
Evalueserve's Researchstream is a Software as a Service (SaaS) solution designed to address pain points across the research, analytics, and design workflows, as well as knowledge management use cases. It automates and streamlines the request life cycle. Its strong knowledge management functionalities, powered by elastic search, enable users to search through available content while adhering to strict client confidentiality.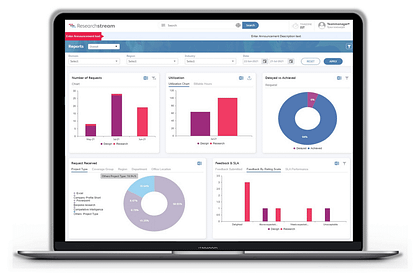 How can Evalueserve's digital workflow management platform, Researchstream, help?
Intelligent features allow requestors to evaluate capacity availability across teams on any given day, thereby setting delivery timeline expectations upfront
The solution can be hosted on-premises or on the cloud and can be integrated into active directories to enable single sign-on. Flexible mobile and web access through secure channels allows professionals to request and get their output wherever and whenever they need it
Allows users to effectively manage large projects by dividing them into small components/deliverables with a parent-child relationship. Its timesheet mechanism tracks time spent by teams on each request to chargeback/map it against business functions, service lines, offices, etc.
When all deliverables are uploaded on to Researchstream, the platform automatically becomes a repository of knowledge/data/design artifacts. Over a period of time, this searchable repository breaks internal silos, enables self-service, and facilitates repurposing of content/past deliverables to streamline spend
Researchstream is built on the latest technology stack (SP 2019/SP online, SPFx), which ensures smooth functioning in any technological environment. It is extremely easy to implement it out-of-box and customize its nomenclature as per a firm's preference
Clients who have subscribed to Researchstream have confirmed the absence of any disruption to service or productivity-related losses. Our diverse clientele/requestor base has also affirmed that the platform works superbly as a connector across business functions and as a self-serve platform, thereby greatly adding to their success strategies.
Success story of Researchstream
A global audit and advisory firm needed our help in implementing an effective workflow management system that could handle large volumes of requests and foster collaboration during the request life cycle.
Our digital platform, Researchstream, was implemented to provide:
Integrated, end-to-end workflow management system for research and analytics projects
Streamlined and automated processes for driving quicker and easier collaboration
Enhanced user experience for easy tracking of request status while on-the-go
The impact:
Delivered 30% efficiency gains in the workflow management process
Provided a single knowledge repository that could be leveraged by teams globally
Improved the research function's responsiveness by delivering timely and actionable insights
Connect with us to learn how Evalueserve's digital workflow management platform, Researchstream, can help you connects people, functions, and systems across your organization in a seamless way and drive efficiency gains.
Discover more about Researchstream.