Consumer goods start-ups operate in a fast-paced environment that is undergoing intensive shifts in response to the digital and sustainable transitions. This space is ripe with opportunity, as our clients in the consumer goods start-up space can attest. 
Leaders within CPG start-ups are pressed for time and must pivot nimbly across multiple functions while working with limited resources. They need to:
Integrate a more data-driven approach that supports well-informed, fast decision-making.
Improve precision in demand forecasting, cost optimization, and identification of where return can be maximized.
Develop a brand evolution that stays true to the company's core vision and resonates with consumers.
In today's volatile global environment, consumer goods start-ups face additional headwinds. Unexpected poor harvests can impact food and beverage companies just as intensely as the increasingly limited supply of sustainable alternatives impacts manufactured goods companies.
Within that context, start-ups have been approaching Evalueserve with three main questions as they approach critical growth inflection points:
1) How can we build an actionable strategy roadmap that respects our core brand values and increases the probability of successful product launches and sustainable revenue growth?
2) How do we identify, prioritize, and develop some "quick wins" on which to focus our limited resources?
3) How can we identify and engage with the best co-development and supply chain partners to support our unique value proposition to go to market quickly?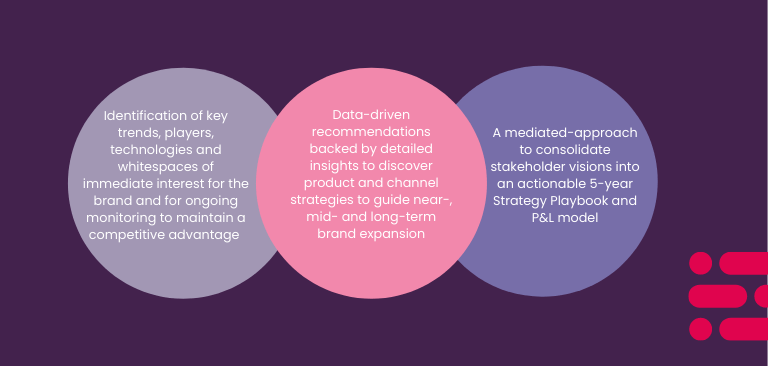 At Evalueserve, strategy formulation is not a standalone activity. Addressing both strategy and implementation within the same rigor creates efficiencies and consistencies for a start-up as it grows. Why?

We recently spent a few months working with a start-up, and every day the team was coming up with innovative new product ideas. As the lists grew, we realized that a clearer brand vision was needed to offer guidance and provide guardrails for R&D. However, the first iteration of the brand vision was not the best option to maximize revenue potential. So we calculated product-level sales potential across all channels for a variety of brand paths to identify which would maximize market share and convey a compelling growth forecast for investors. With implementation clearer, we homed in on creating a vision and mission statement that would facilitate purposeful portfolio expansion.
We worked with a start-up client whose goal was to double revenue every two years by modifying its business model to focus on entering new channels. However, when mapping out their implementation plan, we discovered that the fastest path to revenue growth was not doing new things but rather optimizing trade spend and product assortment with existing retailers. Our analysis showed this start-up had the potential to nearly triple its products' revenue streams by further developing existing sales and distribution channels. The start-up pushed their goal of entering new channels a few years out; that goal will be achieved once underlying P&L fundamentals are in place.
As part of its carbon-neutral corporate goals, a medium-sized client asked us to generate a list of suppliers of five alternative bio-waste materials that could be used to accelerate the supply of its bio-based products. We could not find suppliers with the required volume. So the team pivoted and identified another 35 waste materials and technology enablers that could be considered for building a supply chain ecosystem through investment and partnership. Ultimately, we gave our client a tangible approach to address this industry-wide challenge by broadening and thereby future-proofing its supply chain strategy.
By viewing our clients' businesses through both strategic and implementation lenses, Evalueserve provides our start-up clients with robust yet flexible solutions for the dynamic markets in which they operate.
Talk to One of Our Experts
Connect with us to find out how we can help with your strategy and implementation needs.