There is a definitive need to keep an eye on emerging FinTech startups, as they have been the ones who have been strategically filing patents in the FinTech domain. Detailed patent analysis of FinTech startups can enable the identification of disruptive technologies in the domain and identify other opportunities in their innovation pipeline such as potential collaboration, acquisition & funding opportunities, competition identification, etc. 
There are several under-valued start-ups that have huge potential to expand access, usage, and quality of financial services in advanced and emerging markets. Our approach to identifying these start-ups in the FinTech area involves the following steps:

This approach addresses the difficulties of finding and collaborating with a partner that brings innovations into the field and strengthening the innovation pipeline. A US FinTech company wanted to find potential FinTech partners that were actively innovating in the Blockchain domain, but needed support with finding candidates that suited their specific needs.
The client was looking for FinTech partners that would:
Help them stay ahead of their competitors. 
Strengthen their future innovation pipeline. 
Contribute to their growth and development. 
Our Research and Development (R&D) team combined both intellectual property (IP) research and business research approaches to identify suitable FinTech companies and startups for the client.
Phase One: Problem-Solution Taxonomy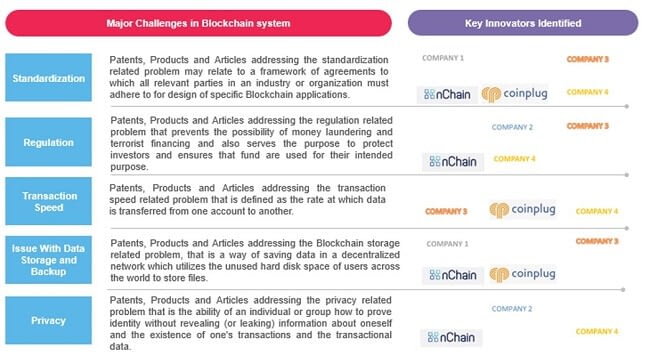 For the first phase, our team analyzed patents, products, scientific articles, and news in the Blockchain domain from various sources to help create a list of companies and startups who were actively working on providing solutions to Blockchain problems. Our team then created a detailed Problem-Solution taxonomy for the client that provided clear information on how these the FinTech companies were specifically solving these Blockchain related problems.
Phase Two: Partner Benchmarking and Profiling
For the second phase, our team identified and shortlisted key FinTech players and startups based on a benchmarking model. We created this benchmarking model based on specific parameters that were highlighted during discussions with the client. Examples of some benchmarking parameters includes: patent coverage, market maturity, novel solutions, solution strength, disruptive quotient, relevant products, etc. The benchmarking model's parameters could also be changed and adapted based on the client's needs and priorities.
Phase Three: Shortlisted Profiles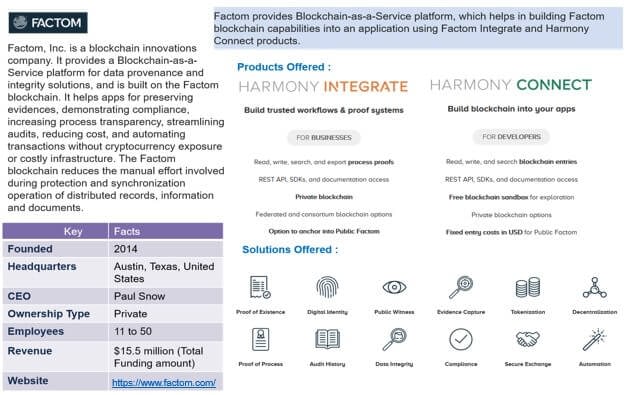 After all possible partners were identified and benchmarked, our team created a ranked list of FinTech companies and startups. These rankings were based on the benchmarking parameters that were previously discussed and finalized with the client. Along with these rankings was a detailed synopsis on the willingness of companies to partner with the client, and relevant key contacts for the client to initiate strategic discussions with. This information would prove to be a springboard that the client could use to delve into discussions with possible partners. 
From the shortlisted profiles, the client was able to readily make decisions concerning which FinTech companies or startups they would want to collaborate with and strengthen their innovation pipeline. If the client had any questions or queries, they could rely on our team's detailed analysis as a one-stop-shop for information regarding hiring trends, funding trends, licensing trends, innovation trends, etc. In addition to these benefits, the client was also able to gain deeper technical portfolio knowledge and increase their commitment to sustainable gains (especially for future innovations surrounding Blockchain).
Shortlisted FinTech Partners
A curated and analyzed list of FinTech partners the client could initiate interviews with
One-Stop Shop for Trend Analysis
One-stop shop containing information about hriing trends, funding trends, innovation trends, etc.
Knowledgable on Blockchain Innovations
A detailed analysis of Blockchain innovations that helped the client plan for the future.
Talk to One of Our Experts
Get in touch today to find out about how Evalueserve can help you improve your processes, making you better, faster and more efficient.