OUR LEADERSHIP
Bhavana Kandari
Head of HR
United States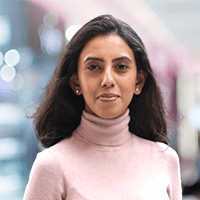 Bhavana is the Head of Human Resources for Evalueserve's Europe and Americas operations. In her role, she is responsible for all strategic human capital priorities, leading a team of HR professionals in the US, Chile, Europe and the UK. She works with the Executive leadership team and business leaders across Europe and Americas to drive all areas of Human Resources including talent acquisition, coaching and leadership development, and HR compliance amongst others.
Over the past several years, Bhavana has worked across multiple Evalueserve offices, in India, the UK and most recently in the US. She is currently based in Raleigh, North Carolina.
Bhavana has been with Evalueserve since 2006 with over 17 years of HR experience across Asia, Europe, and the Americas. She holds a master's degree in business from City University of London, U.K.