Meet The Team
Our Leadership.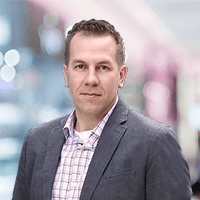 Jared Dominak
Head of Business Development, IP and R&D
United States
As Evalueserve's head of business development, IP and R&D for North America, Jared Dominak is leading all sales efforts and strategic client initiatives. Prior to joining Evalueserve in July 2014, he was a senior member of the North American Sales Team at Chemical Abstracts Service (CAS). In that role, he provided solutions to chemical, pharmaceutical, and materials companies throughout the US via software solutions.
Additionally, Mr. Dominak previously served as a Miller Heiman Client Associate for CAS and trained 150+ sales, marketing, and management team members in strategic selling. He holds dual bachelor's degrees in zoology and Spanish from The Ohio State University in Columbus, Ohio.