Analytics Product
Turning Analytics Strategy into Reality
Make the most of your ability to compete on analytics. Select, Prioritize, Control. Reuse.
Usecasehub Overview
Usecasehub for Analytics Strategy
A powerful combination of Project Portfolio Management (PPM) and Knowledge Management (KM) in one platform, delivering an elevated enterprise analytics strategy. Avoid common pitfalls and drive measurable impact across the enterprise using Usecasehub.
Enterprise-Grade Idea Intake
Connect with stakeholders and commit resources to highest valued shortlisted projects.
Portfolio Management and Project Progression
Top-down framework is geared for portfolio optimization, providing a view into the project lifecycle as it unfolds.
Enhanced Governance Features
Analytics prioritization frameworks, performance measurement/metrics, overview of resources and their assignments.
Optimized Knowledge Repository
Merges PPM and KM creating content, while driving forward re-use and speeding-up the onboarding process.
Idea Intake Strengthens Relationships With The Business
Break-down barriers between end users (business) and the data analytics function by designing customer centricity into every analytics project.
Intuitive capture of project details defines a pipeline of future work. Systemize the art and science of considering potential business value impact before committing resources.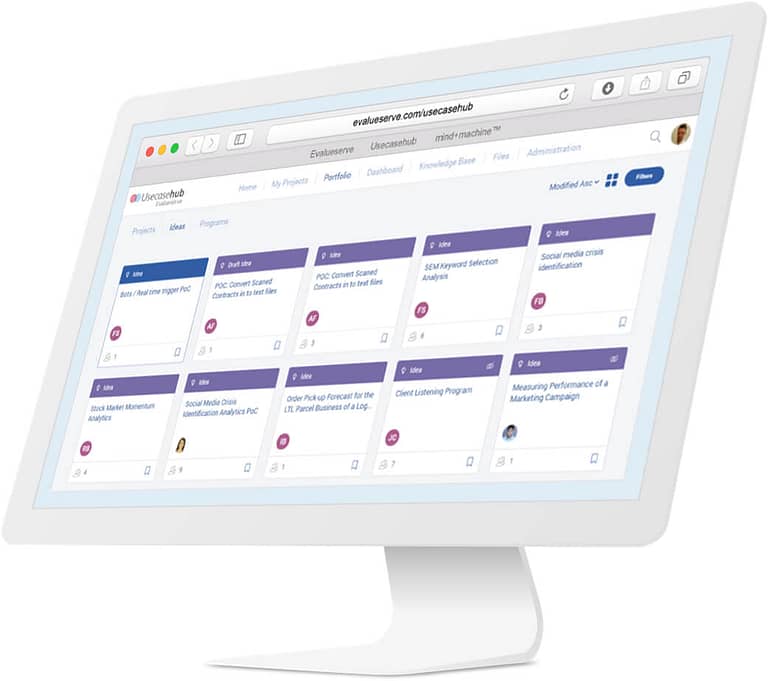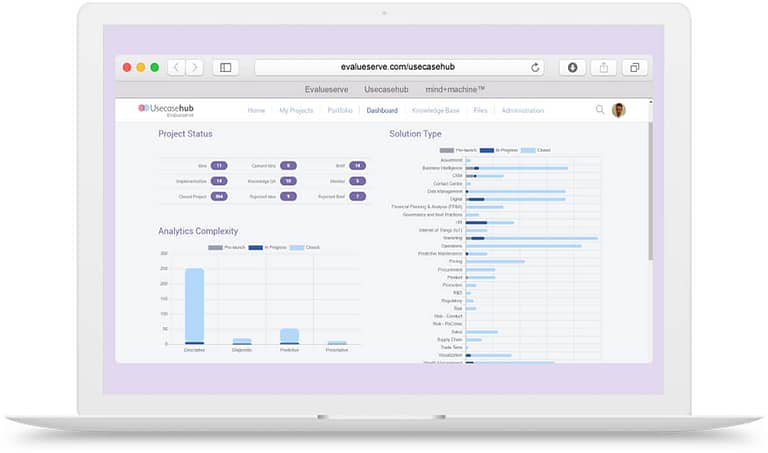 Access The Volume And Variety Of Use Cases Implemented
Consistently updated analytics knowledge tells each project's story, acquired uniquely as a by-product of the governed analytics lifecycle. Leverage your growing knowledge base to scale up faster, mitigate impact of leavers, and foster innovation.
Optimized knowledge browsing paired with powerful search functionality allows projects to be easily accessed and serve as the technology pillar of an analytics Center of Excellence.
Increased Alignment And Visibility During Analytics Lifecycle
Create an optimal environment for top-down multi-project management, allowing the portfolio to be intelligently managed without it becoming an administrative burden.
Inject new focus into pre-launch and post-delivery stages of the lifecycle, often overlooked in the hurry to deliver, to guide the analytics management process end-to-end.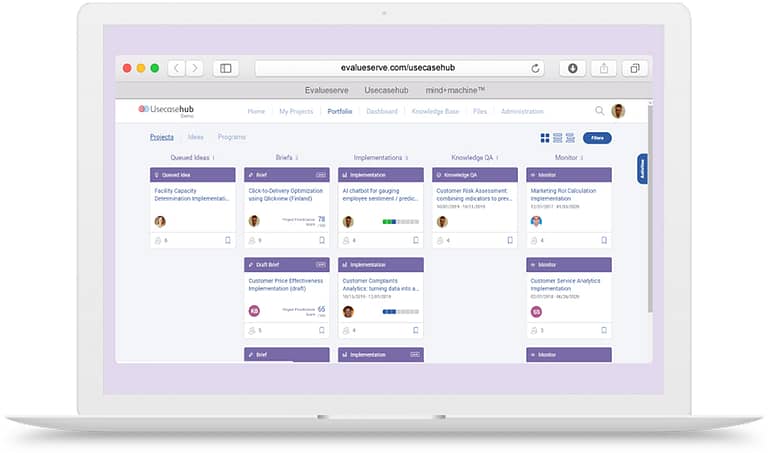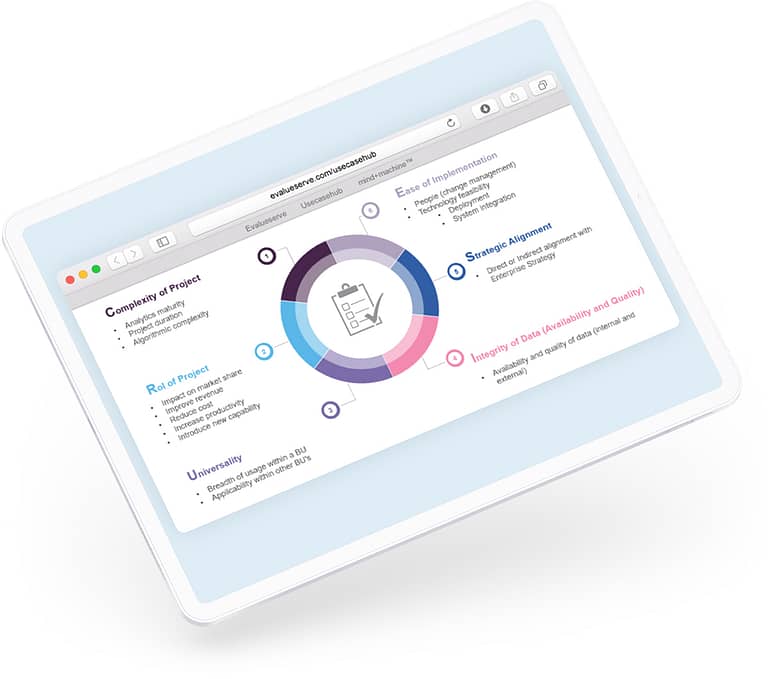 Enhanced Governance Features Brings Impact And Direction
Prioritization frameworks utilize Evalueserve's proprietary CRUISE Matrix (or your organization's own) to prioritize use cases from the idea intake and evaluation phase.
Performance measurement leverages our proprietary out of the box RoI frameworks or operationalize your own bespoke approach.
Manage operations and stakeholder relationships through a dashboard view into aggregated portfolio statuses which can be translated into strategy.
Related Products
AI-optimized products that scale.
We offer a distinct suite of products with careful attention to client-specific agility and seamless integration into existing platforms.
Related Industries
Additional Industries.
Usecasehub
Request a Custom Demo.
Get in touch today to find out about how Evalueserve can help you improve your processes, making you better, faster and more efficient.