Insightsfirst Module for Professional Service Firms
Opportunity Radar
Smarter Sales Strategy using AI, for Faster Business Wins 
Opportunity Radar for Professional Service Firms
Use AI to generate valuable leads.
Identify relevant growth opportunities and access the latest sector trends. Supplement your business development efforts with AI-gathered insights from 200,000+ data sources.
New Business Opportunities
Uses AI-NLP and a trigger-based approach to identify hidden opportunities that could otherwise be overlooked.
Faster Time-to-Market
Automates opportunity detection, news and KPI monitoring using AI and domain experts.
Easy Ramp-Up
Allows rapid scalability across sectors and internal teams leveraging the modular and component-based architecture.
Reduced Noise
Using domain-specific AI, we curate opportunities by removing noise and redundancy
Curate Opportunities Based on Business Needs
Digitization, innovation, and disruption are rapidly transforming the marketplace, thus, creating new opportunities every day. As a result, Strategy Consulting, Accounting and Advisory, and other Professional Services firms need an intelligence program that detects relevant opportunities faster for proactive sales reach outs.
Insightsfirst ORAD monitors over 200,000+ data sources to find hidden revenue opportunities. The AI-enabled digital platform is designed to fit your business requirements and can be tuned to complement your current sales pipeline.
How does Insightsfirst ORAD Support your Opportunity Identification Requirements
Follows a trigger-based approach to identify relevant opportunities.
Uses a mind-map framework specific to a sector or a focus area. For example, growth companies, distressed companies, companies with a focus on ESG or digital transformation, etc.
Each mind-map has a well-defined set of triggers and keywords created in consultation with clients. These triggers go into the AI engine to help shortlist opportunities.
As a standard offering, you have the option to expand the scope of the platform.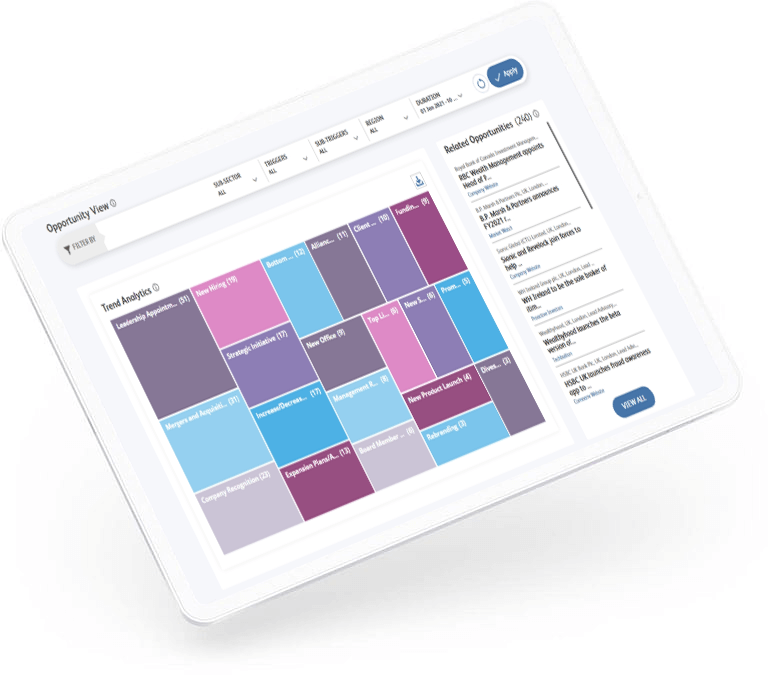 Uses Domain-Specific AI to Generate Opportunities
New and advanced AI / NLP engines, automation and text analytics, for collecting and curating insights at a scale.
Data sourcing: Specific business-related triggers are fed into our AI-powered tool which scans more than 200K web-based news sources as well as social media posts from Facebook, Twitter & LinkedIn (public posts of organizations, influencers, and public figures).
Opportunity Detection: NLP and text analytics algorithms such as, semantic outlier, relevance filtering, smart segmentation and clustering are used to sift through all the noise and filter our the most relevant opportunities.
Opportunity Validation: Our domain experts then curate the data received from the AI tool and feeds positive results into the Insightsfirst platform. The negative results are sent back to the AI tool for sustained learning.
Opportunity Upload and Publishing: Shortlisted opportunities are published on the platform on an interactive interface through the analyst workbench.
Packed with Features for Business Users
In-platform Newsletters: Provides the flexibility to create and schedule newsletters so that you can find key opportunities in your inbox
Ask the Analyst: Allows a user to request for additional information on the opportunity / target sector from our domain experts
Collaboration Features: Users can leave a comment on an opportunity of interest or tag other users within the platform, thus making teamwork easy
Centralization of Information: Insights are disseminated through a cloud-based platform that can easily integrate with other internal/external data sources and CRM platforms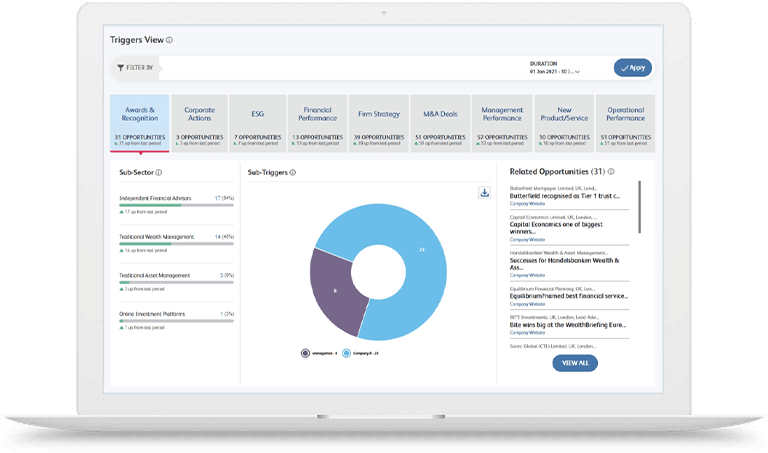 Reference Case
Advisory Firm Improves Conversion Rate by 60%
The coronavirus pandemic has had a catastrophic impact on businesses. A rise in disrupted businesses, distressed assets, mounting losses, broken supply chains, and increased need for financing have created a plethora of opportunities for financial and restructuring advisory firms. However, these firms are suffering from a problem of plenty. An information overflow is impeding their ability to sift through data to find relevant opportunities, track hidden gems in niche sectors, and stay ahead of competitors by ensuring effective and efficient time-to-market.  
Related Resources
Optimize your outcomes.
"Insightsfirst highlighted opportunities that would otherwise be overlooked."
Manager
Wealth Management for a Leading Accounting and Advisory firm.
Related Products
AI-optimized products that scale.
We offer a distinct suite of products with careful attention to client-specific agility and seamless integration into existing platforms.
Related Industries
Additional Industries.
Opportunity Radar
Request a Custom Demo.
Get in touch today to find out about how Evalueserve can help you improve your processes, making you better, faster and more efficient.