Insightsfirst for Professional Services Firms
Unlock Intelligence. Unleash Opportunities.
Digitally transform your intelligence programs. Respond quicker to opportunities. Stay ahead of the competition.
Insightsfirst
An AI-Enabled Digital Platform That Empowers Professional Services Firms
To get an edge in the marketplace through differentiated insight.
Competitive Intelligence
Provides A Unified View Of The Competitive Landscape
Provides a unified view of the competitive landscape and equips your teams with key insights to help them compete effectively in the marketplace. In addition, the platform equips you with curated and real-time intelligence on thought leadership and eminence activities, as well as investments made by your peers, thereby helping you identify key challenges and opportunities ahead of time.
Provides alerts on trends, disruptors, and differentiators, as they happen
Provides updates on eminence/thought leadership content to help identify white space and develop a differentiation strategy
Provides intelligence on investments and capability enhancements to ensure you don't lag behind your competitors
Provides a snapshot of social media activities by the competition or it's employees in order to keep a tab on them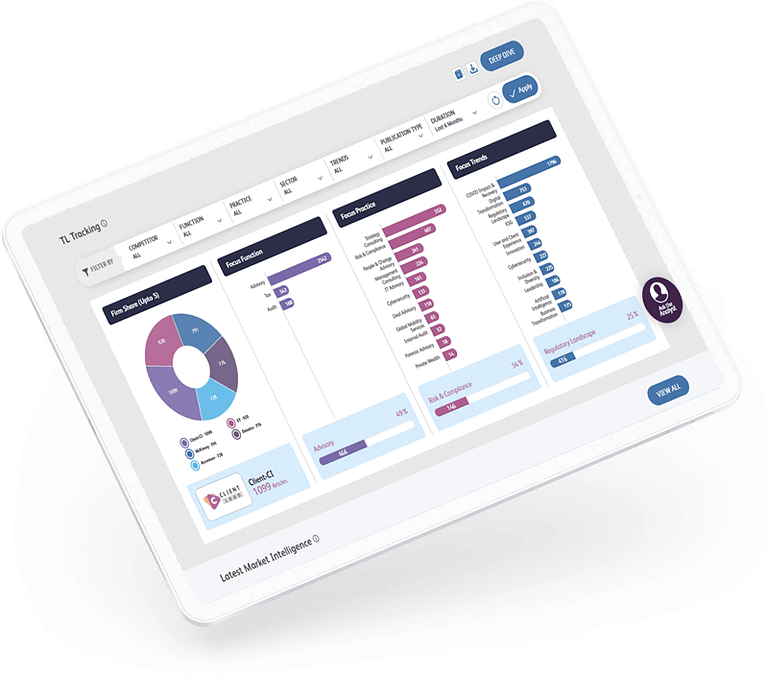 Sector Intelligence
Elevated Sector View to Plan Your Moves in Advance
A cohesive program to support Sector and Knowledge Teams with insights on trends, threats, and opportunities across Focused Sectors. It aims to provide a panoramic view of sector movements to equip stakeholders with relevant data points to initiate an intriguing and engaging conversation with clients and prospects.
Captures the current pulse of a sector that will in turn help shape future developments
Provides forward-looking analysis to help identify the next big pockets of opportunities for you as well as your clients
Provides a robust view of developments across key firms in a sector and KPIs – Financial and ESG
Captures sector-specific content published by your competitors, or sector-specific investments
Opportunity Radar
Smarter Sales Strategy using AI, for Faster Business Wins
Digitization, innovation, and disruption are rapidly transforming the marketplace, thus, creating new opportunities every day. As a result, Strategy Consulting, Accounting and Advisory, and other Professional Services firms need an intelligence program that detects relevant opportunities faster for proactive sales reach outs.
Insightsfirst opportunity radar takes a trigger-based approach, using a mind-map framework, to identify relevant opportunities.
A mind-map could be specific to a sector or a focus area. For example, growth companies, distressed companies, companies with a focus on ESG or digital transformation, etc.
Each mind-map has a painstakingly created set of triggers and keywords, that are finalized in consultation with clients.
New and advanced AI / NLP engines, automation and text analytics, are then used for collecting, segmenting, identifying and curating the opportuning, at scale.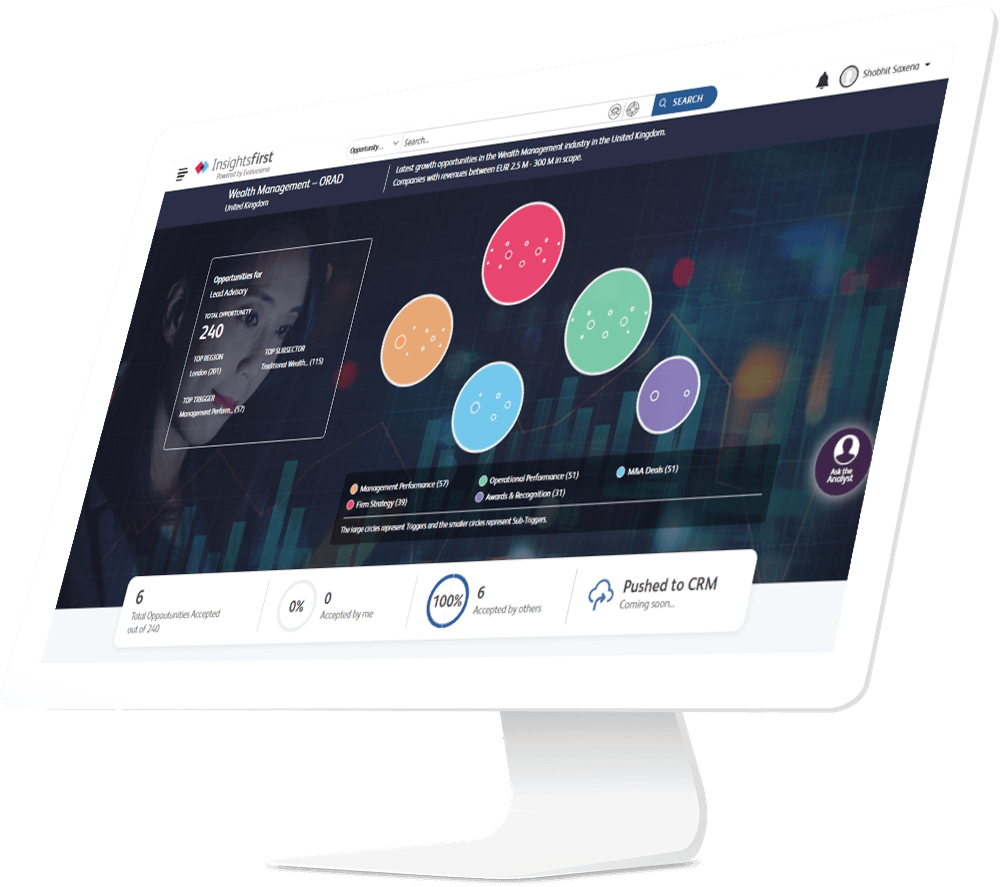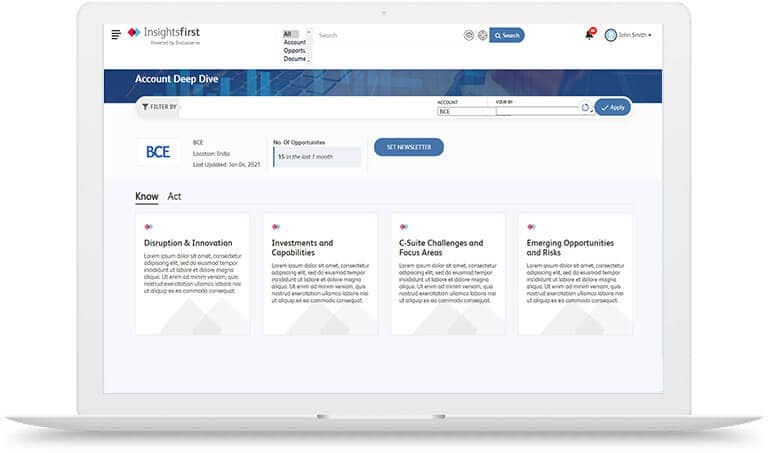 Account Intelligence
Real-time Updates to Accelerate Account Development Efforts
A focused program to support Partners, Clients, and Account Teams with intelligent updates on recent developments of key accounts and prospects, and to help drive conversations and conversions.
Provides account-level activity and actionable information on developments, challenges, focus areas, strategy, investments, and trends.
Provides an account-level summary for the team to act on. The platform intends to ensure all the information is centralized and easily accessible. It can be easily integrated with existing content repositories.
LENS On Sustainability
360⁰ View On Sustainability
A state-of-the-art intelligence solution that provides dedicated intelligence on ESG themes, regulatory landscape, and emerging opportunities by combining frameworks, custom analyses, and deep domain expertise. The platform offers dedicated ESG intelligence on prospects and key accounts by sector and themes to support X-sector learning and development, ESG advisory, ESG investment, and business development teams.
Real-time ESG Insights helps in monitoring the rapidly evolving ESG landscape
ESG Risk Monitoring assists in tracking relevant and imminent ESG regulations and risks
Multi-factor ESG Analysis helps in assessing sector materiality and region-specific issues, CXO chatter, and controversies
ESG Business Leads assists in proactively identifying business opportunities through an AI trigger-based approach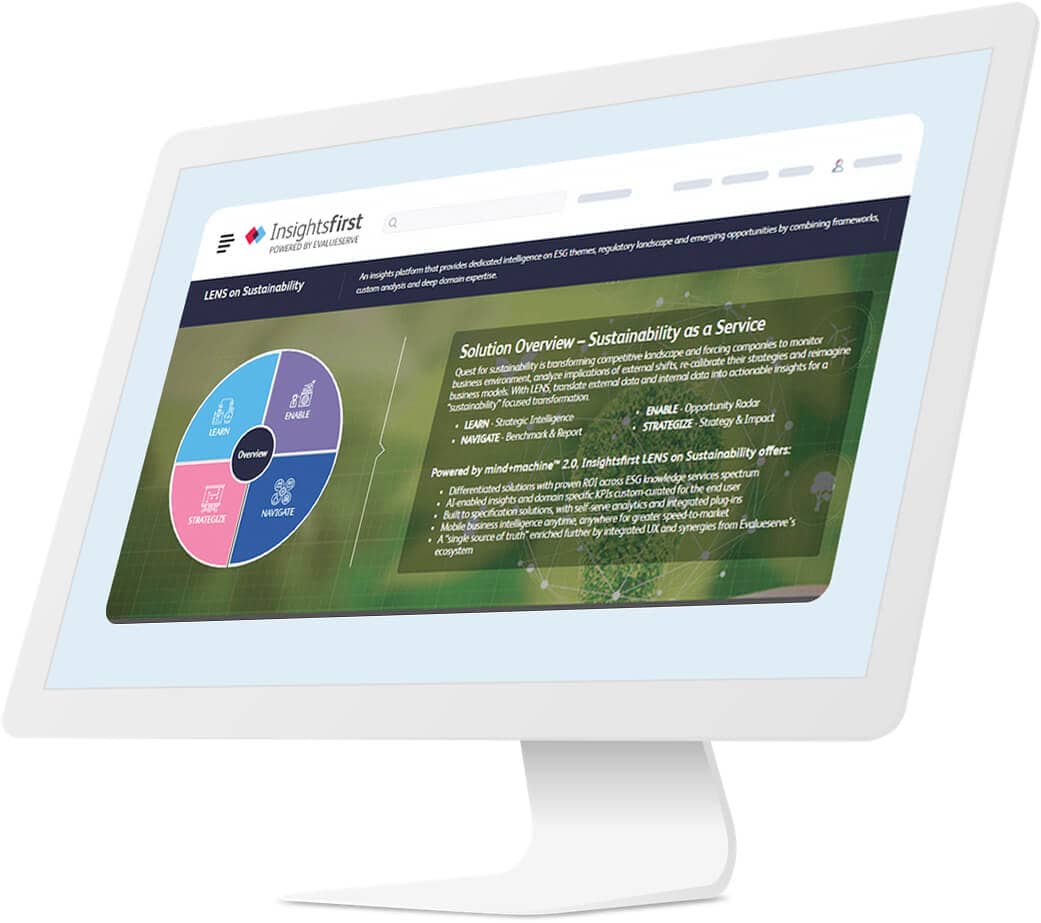 Reference Case
Big 4 Advisory Firm Streamlines Sector Intelligence and Improves Insights Collection and Dissemination
A Big Four Advisory Firm is no stranger to developing new systems and methods for its clients. Given their global presence and rapid pace of market development, their sector teams were being stretched to make quick decisions without adequate and timely access to data and insights.
"The #1 piece of intelligence that goes to the longest way with leadership is competitive intelligence. Insightsfirst accentuates the importance for us. What you're doing is not what I've seen in the market before. You're helping transform us"
Big 4 Advisory Firm
Related Resources
Optimize your outcomes.
Related Industries
Additional Industries.
Insightsfirst for Professional Services
Request a Custom Demo.
Get in touch today to find out about how Evalueserve can help you improve your processes, making you better, faster and more efficient.