OPPORTUNITY RADAR
A mind+machineTM approach to identify firms exhibiting early distress signals
An AI-Enabled Platform That Reviews Multiple Sources To Detect Early Warning Signals On Distressed Firms To Identify Hidden Opportunities
Reduced Time to Market

Quickly identifies and delivers opportunities; focus on niche companies and sectors.

3X Improvement in lead Identification

Compliments existing target identification approach; uncovers relevant opportunities regularly and rapidly.

Enables collaboration and self-service

Intuitive user interface with download and share features; ability to comment, tag, like/dislike, and accept/reject opportunities.

Intuitive & Interactive dashboards

Provides features that helps users slice and dice data, generate newsletters, and request bespoke research.
What Is The Opportunity Radar?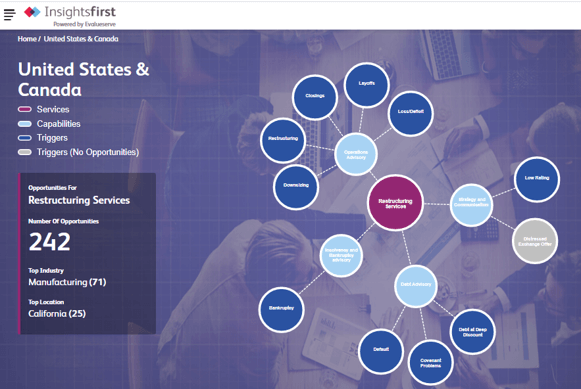 A Standard Offering From Insightsfirst To Identify Firms Showing Early Signs Of Distress
Leverages AI and automation to identify early distress signals across key business sectors.
Identifies distressed businesses based on distinctive indicators such as bankruptcy, insolvency, restructuring, low rating, layoffs / closures, WARN notice, involuntary petition, downsizing, and closings among others.
Validate your internal opportunity identification efforts with around 200 opportunities identified every week, across North American and the UK market.
Although a standard offering, we do offer the option to expand the scope of the platform to meet the client's requirements
How Does The Opportunity Radar Work?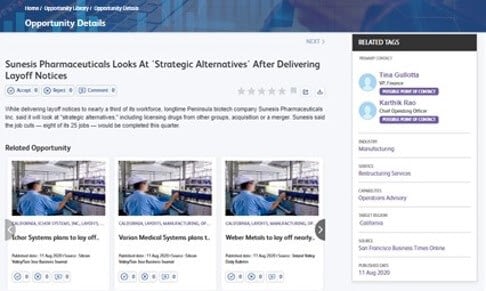 Uses A Combination Of Mind+MachineTM To Deliver The Opportunities
Searches and configures: Specific distress-related triggers are fed into our AI-powered tool which scans the web and other data sources, and then automatically tags the opportunities under relevant categories.
Validates identified opportunities: Our team then curates the data received from the AI tool and feeds positive results into the Insightsfirst platform. The negative results are sent back to the AI tool for sustained learning.  
Publishes opportunities: Shortlisted opportunities are published on the platform on an interactive interface through the analyst workbench.
What Are Some Of The Exciting Features?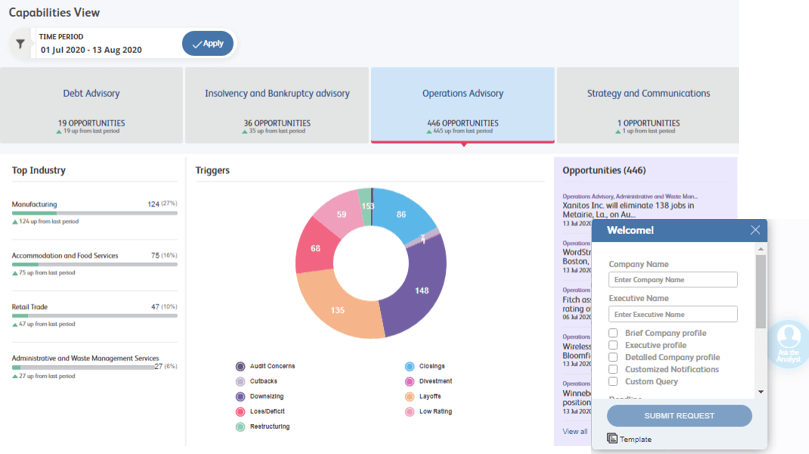 Insightsfirst Opportunity Radar Comes Packed With Features Keeping The Business User In Focus
In-platform Newsletter Creation: Provides the flexibility to create and schedule newsletters based on the content within the platform. These newsletters can be shared internally and externally.
Ask the Analyst: Allows a user to request additional information on the opportunity / target from our team of analysts, where such requests are scoped separately.
Commenting and User Tagging: Users can leave a comment on an opportunity of interest or tag other users within the platform. After other users are tagged, notifications are sent accordingly.
An Intelligence Platform Powered By Mind+Machine™
Smart Technology

Powered by AI engines, RPA bots, advanced machine learning technologies & automation—without losing the human in-the-loop.

Robust Technology Stack

Includes Angular 6, JQuery/JavaScript, Bootstrap/HTML5/CSS3, D3.js, SQL Server 2012, etc.

Flexible Model

Can be deployed on cloud or on-prem with necessary security protocols in-place.

Domain Expert Supervision

Dedicated domain / functional experts augment AI engine and supervises processes.
Talk to One of Our Experts
Get in touch today to find out about how Evalueserve Opportunity Radar can help you improve your processes, making you better, faster and more efficient.
Contact Us