Saying that the COVID-19 pandemic is creating havoc across each node of the global supply chain is an understatement. With supply chains becoming increasingly global and inter-connected and complex, the scale and scope of this impact are evolving and expanding daily. Various surveys indicate that 80% of organizations globally are facing raw material shortages, and the severity of the disruption will increase exponentially in Q2 2020, with even longer-term impact throughout the year.
While governments are taking swift action to contain the spread of the coronavirus, there is an imminent need for procurement or supply chain functions to set-up a robust mechanism that will help proactively identify, monitor and manage supplier-related disruptions. In the medium term, companies must reassess the risk associated with their supplier network and optimize it by region and category. In this situation of uncertainty, doing high-level trend analysis for all your suppliers (+100,000 suppliers) will not work. Companies must set-up a mechanism that monitors holistically and in near real-time the risk associated with its critical suppliers.
Over the last few weeks, we have been working with our customers to help them:
It has never been more critical for procurement leaders to put in place robust supplier monitoring measures, which enables them to accurately and timely track category risk, to optimize their supplier portfolio. Adopting a risk framework greatly supports supply chain leaders to make informed and timely decisions needed during globally disrupting events such as this black swan event.
When experiencing a crisis, solely relying on periodic financial risk assessments of suppliers does not offer the insights required for decision making. Ensuring business continuity requires companies to comprehensively track supplier risks, and other related trends, on a near real-time basis. In response to this issue, we have collaborated with our clients to create a well-defined, quantifiable framework that calculated risk indices on a daily basis for suppliers and categories. 
The risk indices focus on parameters that evaluate ability of the suppliers to manufacture and deliver the required products and services—factoring in situations such as lockdowns, COVID impact status, port embargo, capacity constraints and insolvency threats.
To holistically monitor these associated risk, the framework covers 5 key dimensions.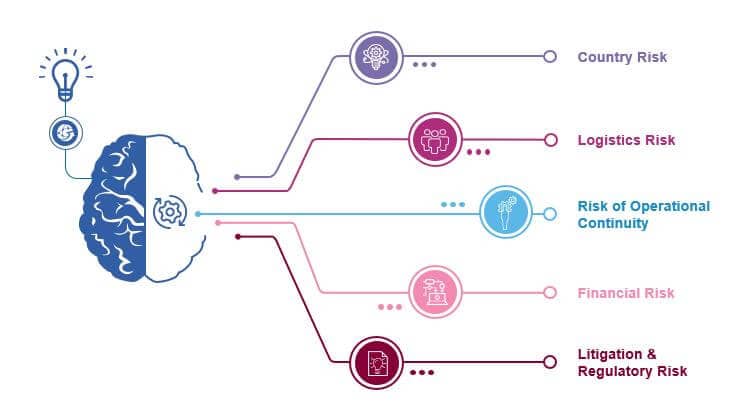 Enabled by our mind+machine™ solution, customers get near real-time insights and a quantitative risk assessment based on daily event and supplier activity tracking. This quantitative risk score for each supplier and every category is monitored daily to assess the deviations and highlight factors influencing the change in the risk index. As a result, organizations can use this supplier and category risk index to stay nimble and adapt to changes as they take place. 
The last mile is getting these supplier, category insights and risk triggers to the right person at the time. With Insightsfirst, all category managers now receive these triggers and supplier/category insights in a timely manner, straight to their smart devices. This truly empowers category managers to make timely decisions and minimize their supplier and category risks. 
Identifying risk is a necessary precursor to quantifying the impact it can have on our clients, while also helping them with devising a short- and long-term mitigation strategy. Adopting a quantitative and data-driven approach with respect to supplier and category risk gives the CPO an overall view of the spend at risk and performance of categories—from diversifying supplier base to identifying alternative suppliers locally or in non-impacted regions. 
Implemented over a period of time, procurement functions can optimize their supplier portfolio by ensuring the right balance between the diversification of the supplier base, sourcing costs and risk index. 
COVID-19's impact has reiterated the realizations that that there is no way to predict black swan events. During times like these, it is critical to observe what we can control, such as the conscious decisions we make before, during and after it. The silver lining during this situation is that we live in a time with more information and data available than ever before. This results in robust and proactive monitoring or risks, ensuring that companies are better prepared to face the short- and long-term repercussions of such black swan events.