Insightsfirst CI Module for Professional Service Firms
Insightsfirst Competitive Intelligence (CI)
Unique and Deep Insights at Your Fingertips
Insightsfirst CI Overview
Use AI to generate competitor insights
Insightsfirst CI is an AI-enabled platform engineered by domain experts to provide a customized and unified view of the competitive and market landscape. Insightsfirst addresses unique pain points of advisory and consulting firms – i.e., how to stay ahead of the curve and prepare for future demand proactively.
Insightsfirst CI helps marketing teams, strategy teams, and practice heads stay updated on the latest eminence activities and thought leadership, go-to-market strategies, and investments by their competitors. The platform uses AI / NLP engines to equip users with real-time insights for smarter decision-making and helps them stay at the forefront of the market.   
"Insightsfirst is super helpful – It has a lot of relevant information, is well-organized, and is easy to use"
Vice president, customer strategy
leading strategy consulting firm
Whether you're a partner in a BIG 4 advisory firm or business head in a Fortune 1000 company, there is an inevitable sense of worry on how you can create or maintain an edge in the marketplace.
Insightsfirst CI helps address such challenges by generating curated user-specific competitor insights in a timely and centralized manner – it enables users to:
benchmark thought leadership publication and determine eminence white spaces
develop thought leadership publications that have higher engagement scores
stay abreast on competitors' investment strategy
ascertain latest market trends and disruptors
get a snapshot of social media and other marketing activities
Intelligence Driven Planning to Maintain a Competitive Edge
Provides a unified view of the competitive landscape and equips your teams with key insights to help them compete effectively in the marketplace.
Thought leadership analytics – Monitors competitors' eminence and thought leadership content, positioning, and focus areas to identify white spaces and develop publications that offer higher engagement scores

Investments tracker

– Provides a deep-dive view on Investments & Capabilities: M&A, alliances, digital investments, and hiring being to help build long-term investment strategize and gain a competitive edge
Market watch – Tracks product launches, tech disruptions, branding / marketing activities, media mentions, strategy, and performance, empowering you to create robust go-to-market strategies
Social media engagement tracker – Provides a snapshot of engagement scores of the competitors on key social media platforms (LinkedIn and Twitter) to help plan effective and ROI-driven marketing campaigns

Sentiment analysis

– Provides Insights of market sentiments of your competitors on key social media platforms (LinkedIn, Twitter, Fishbowl, and Glassdoor) to help better plan your social media messaging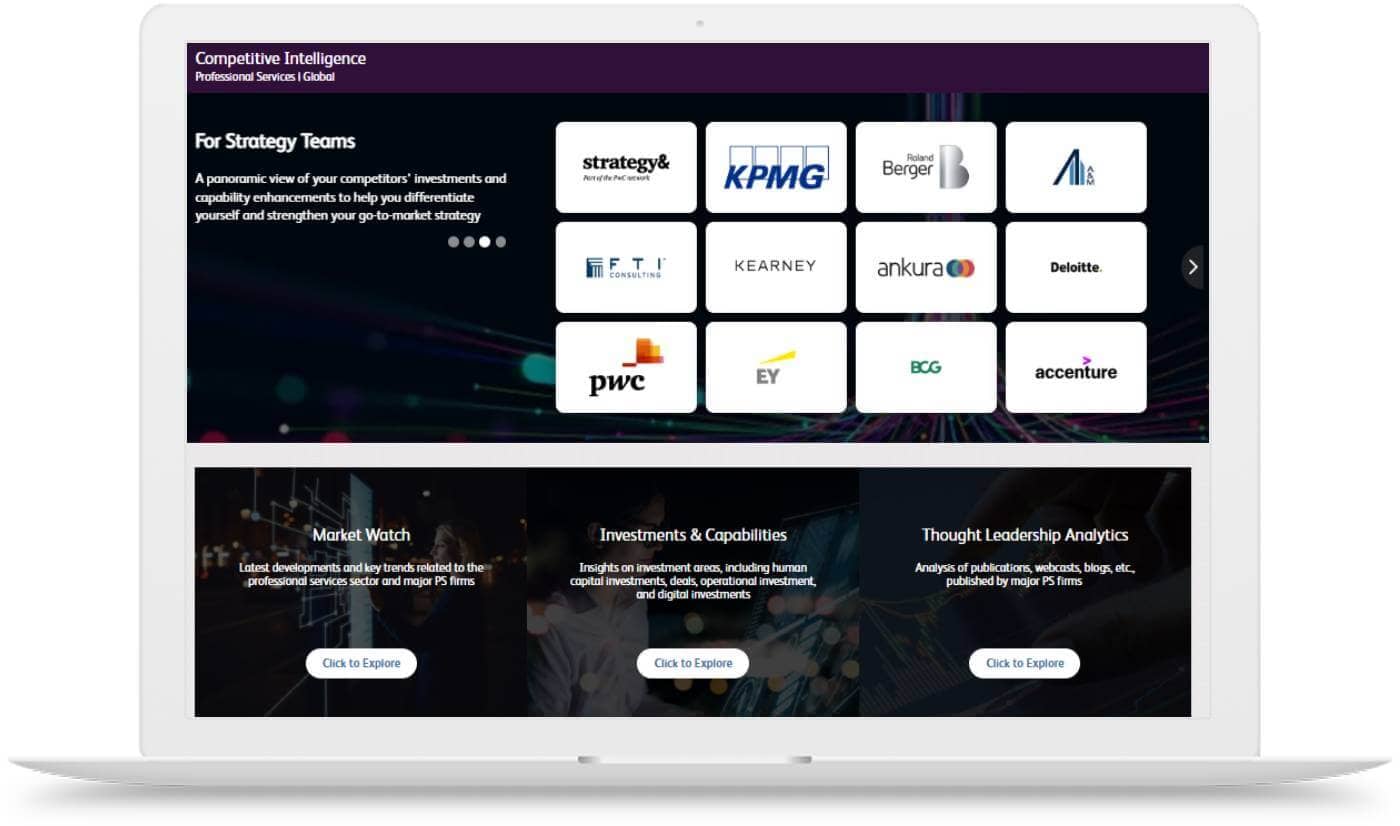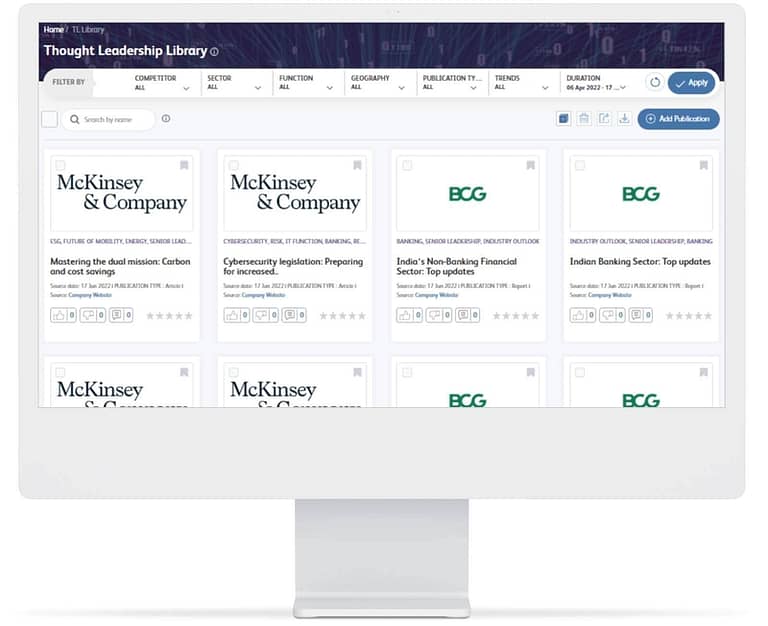 Packed with Features for Business Users
AI-based Data Collection – Powered by AI and NLP to provide a real-time view of the changing competitive environment. 
In-platform Newsletters – Provides the flexibility to create and schedule newsletters so that you can find key opportunities in your inbox.
Ask the Analyst – Allows a user to request for additional information on the opportunity / target sector from our domain experts.
User Analytics – Provides the ability to view platform usage patterns to identify most viewed modules, content, and reports – on the platform itself).
My Dashboard – Allows users to save any filter combination on any chart as a custom view.
Collaboration Features – Facilitates collaboration across business functions and geographies via customizable tagging, notifications, newsletters, and custom integrations.
Centralization of Information – Delivers insights that are timely, actionable, and disseminated through a centralized and interactive platform; can easily integrate with other internal/external data sources and applications.
Our Advantage
Delivering Results
Increased in engagement score
Reduction in time taken to deliver insights
Reference Case
Competitive Intelligence Helps Big Four Firm Improve Marketing Strategy
A Big Four accounting and advisory firm wanted to enable insights generation related to competitors, their thought leadership, and relevant news. 75% increase in engagement score by tracking competitors' thought leadership content and media traction, as well as eminence white spaces.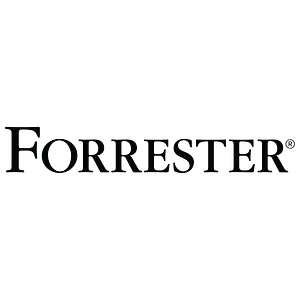 Featured Story
The Insightsfirst competitive and market intelligence platform was named in Forrester's Now Tech: Market and Competitive Intelligence Platforms, Q1 2022.
Related Resources
Optimize your outcomes.
Related Industries
Additional Industries.
Insightsfirst for Professional Services
Request a Custom Demo.
Get in touch today to find out about how Evalueserve can help you improve your processes, making you better, faster and more efficient.