Deal Management Solution
Integrated Deal Origination and Management Platform
AI and Gen AI enabled platform combining Intapp's DealCloud and Evaulueserve's Insightsfirst for identifying new deal-making opportunities, enriching the sales pipeline, and streamlining the deal management process.
Overview
Enhances the Deal Pipeline with AI-Powered Deal Insights
To stay ahead of the curve and originate relevant deals faster, M&A advisors, investment bankers, and other business leaders need to be equipped with a transformative business development and deal management solution that helps:
Identify relevant deal origination opportunities
Increase top-of-the-funnel activities
Build a deeper understanding of potential targets and deal-winning relationships
Streamline the deal lifecycle management process
Stay on top of deals and close more deals faster
The integrated platform provides deal execution and relationship management (via DealCloud by Intapp) and helps individuals within business development and deals teams to identify new deal-making opportunities as well as track inactive deals (via Insightsfirst by Evalueserve). The combined platform enables DealCloud users to increase their top-of-the-funnel activities.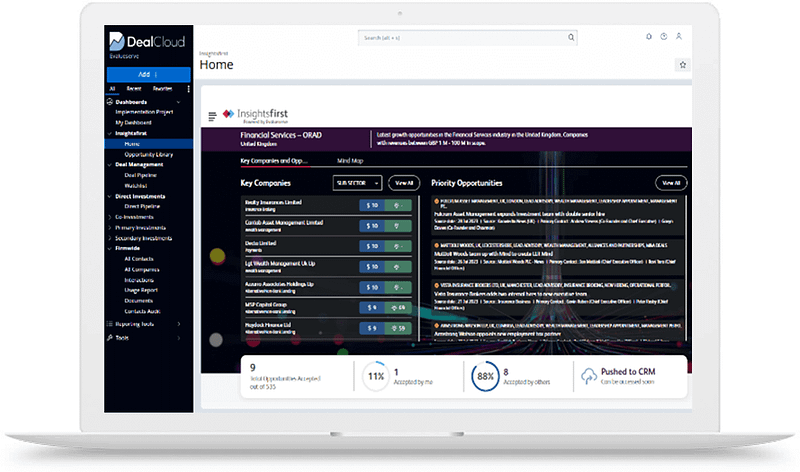 The integrated platform enables users to spot trigger-based events in target markets in a systematic manner using lead indicators that are fed into an AI engine – thus, identifying new deal origination opportunities and building the pipeline faster. The integrated solution identifies new deal-making prospects, track dormant ones, bolster top-of-the-funnel activities, and provide relationship management. All in all, it equips users with a full-funnel, optimized toolkit to find and close deals swiftly and efficiently.​

Insightsfirst Supports Originating and Sourcing New Business Deals/Opportunities
Enriched new deals and sales pipeline: Firms can better identify potential deal-making opportunities and new leads using AI and generative AI engines to highlight targets with deal team-specific investment criteria. Insightsfirst can be configured to specific mandates of different deal teams.
Generative AI engines: Deal professionals can access Insightsfirst's GenAI chatbot within DealCloud to unlock insights from domain-specific content and receive quick and directional answers to structured and unstructured queries.
Domain-specific intelligence: Firms can leverage Evalueserve's industry experts to add insights about its markets, targets, and decision makers directly within DealCloud to help gain a competitive edge by identifying curated opportunities and close deals faster.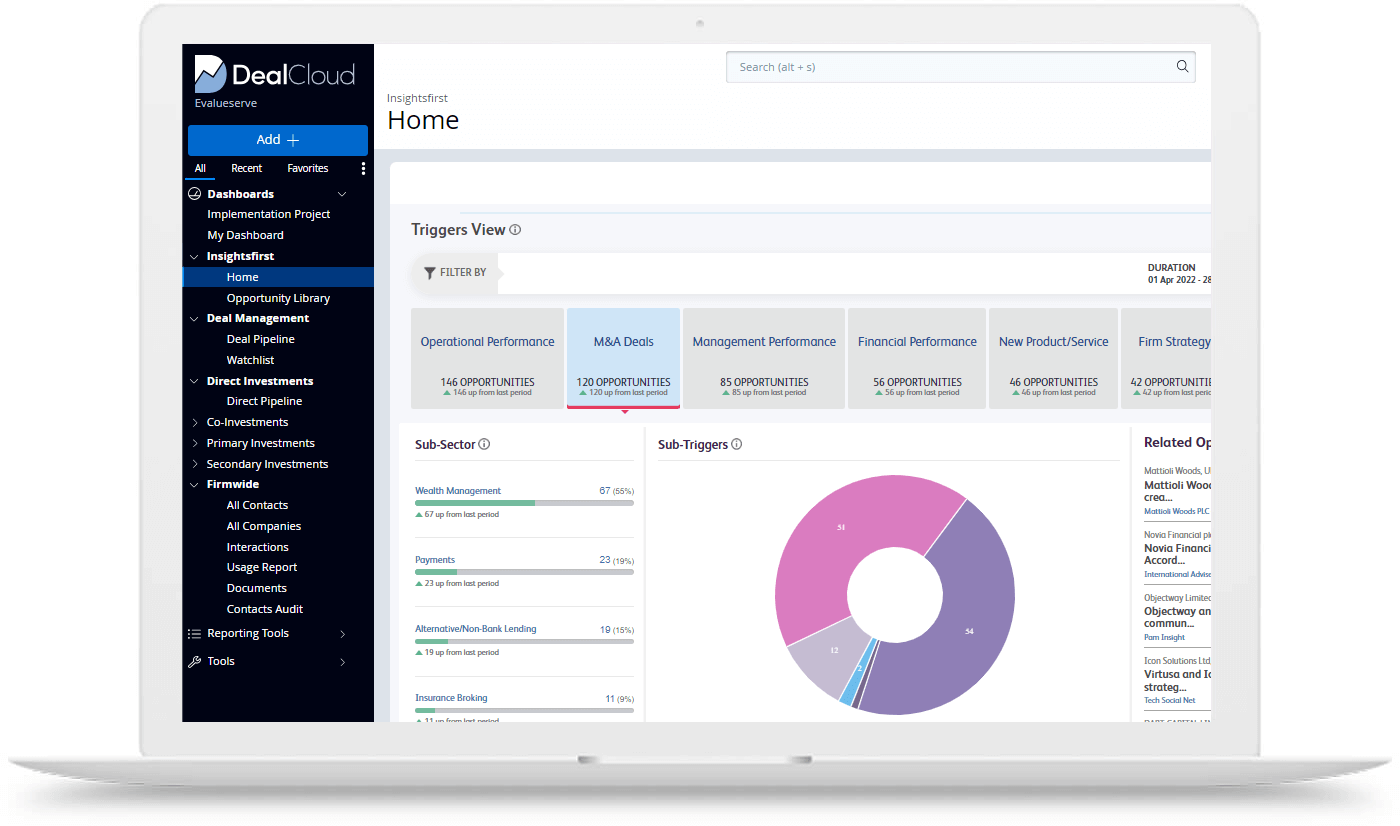 DealCloud Equips Users Across the Deal Management Journey
Delivers vertical-specific solutions that enable professional and financial services firms to harness the intellectual capital of their people and processes within one unified platform
Let's users maintain visibility on industry developments as well as emerging trends and investment themes. The platform pulls proprietary and third-party data into one centralized platform
Whether you are focused on targeting ideal buyers on a sell-side engagement or pulling a list together of potential investors for a capital raise, the platform streamlines the target list-creation process
An integrated deal, relationship, marketing, and compliance solution that enables users to easily connect to external systems and third-party data providers to unify the entire deal lifecycle
Press Release
Evalueserve Unveils New Partnership with Intapp
Related Resources
Optimize your outcomes.
Related Products
AI-optimized products that scale.
We offer a distinct suite of products with careful attention to client-specific agility and seamless integration into existing platforms.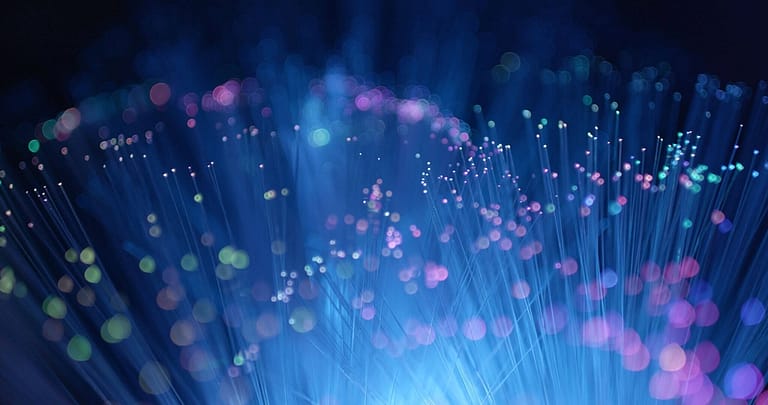 Insightloupe
Get the highest-quality view of your intellectual property and research and development data when and how you need it.
Related Industries
Additional Industries.
Insightsfirst x DealCloud
Request a Custom Demo.
Get in touch today to find out about how Evalueserve can help you improve your processes, making you better, faster and more efficient.