Analytics Automation Platform
Scale Data-Driven Decisions
Low-code platform built by domain experts to accelerate analytics insights.
Analytics Automation Platform
Make Data Your Competitive Edge
In the last decade, we've seen data fuel rapid growth and drive competitive advantages. However, traditional analytics methods are slow to implement and difficult to scale. You can't always find the right talent or address systemic issues like siloed data and disjointed workflows.
Analytics automation helps you accelerate and strengthen decision-making across the organization. We built our analytics automation platform around the most successful models from high-ROI client use cases. Accelerate time-to-value with our low-code, domain-specific modules.
Evalueserve demonstrates strengths in turning insights into optimal business actions.
Forrester Customer Analytics Service Providers Wave
Analytics Apps
Additional tools to accelerate time to impact.
AI-powered virtual assistant that simulates real-life conversations by analyzing and understanding the user's intent to engage with them with pre-designed rules tailored to their unique inquiries to provide personalized answers
Boasts additional customizable features like natural language generation for improved communication and report generation, personalized suggestions for improved conversations based on saved chat history, reporting for automated insight generation, and more.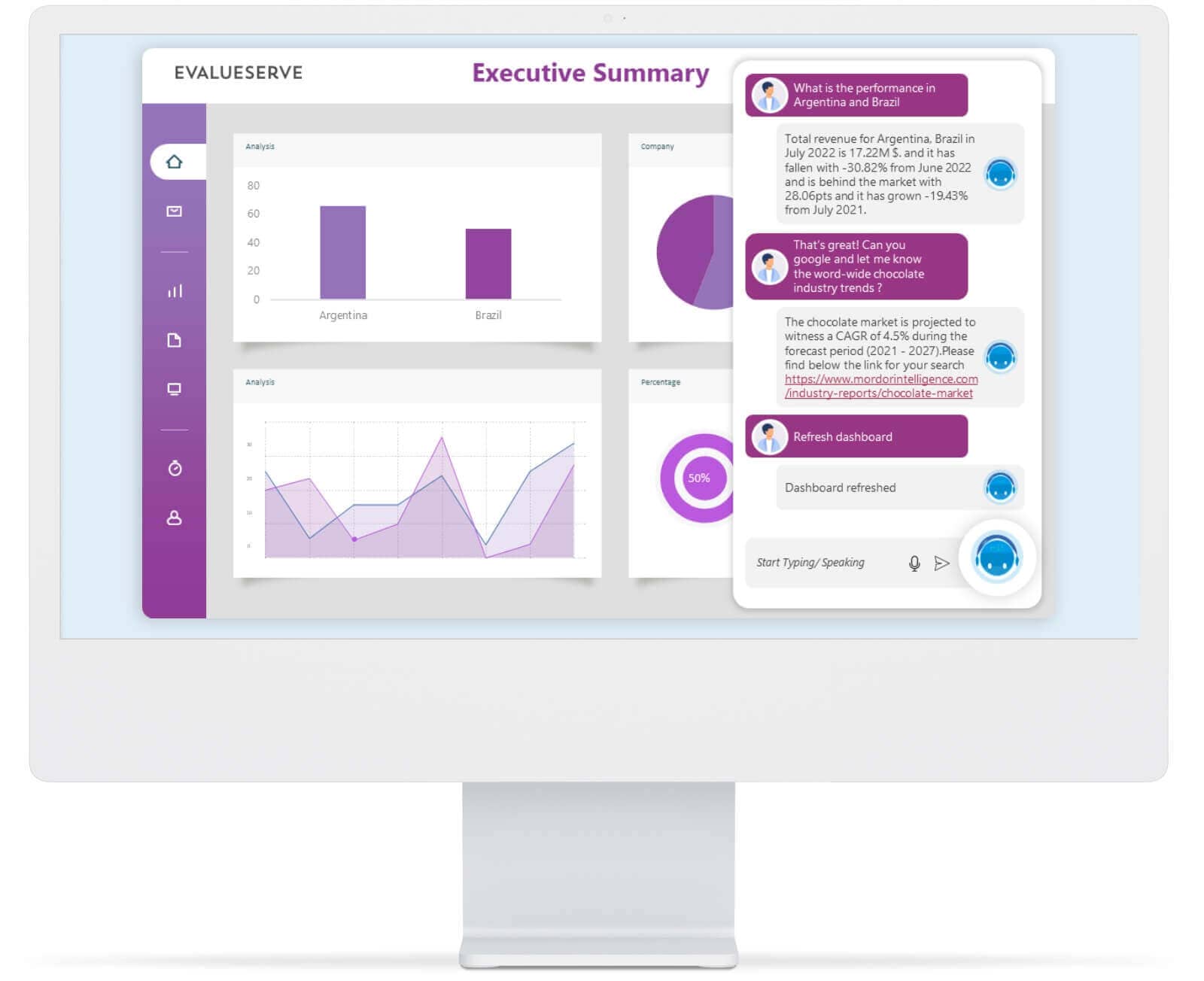 Our benchmarking capabilities enable automating the analysis of data generated by best-performing case studies, and internal data to generate the optimum KPIs for the desired outcome.
Using data source integration, statistical techniques, and a visualization platform, we're able to use the data from your projects, analyze their performance, and generate insights into what influenced their successes and shortcomings to maximize future revenue and savings.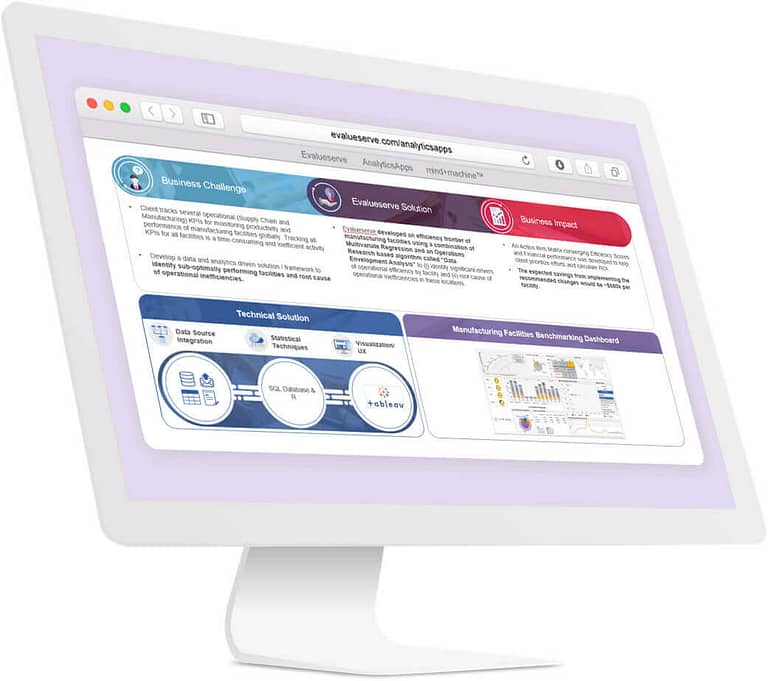 Predict future demand for every lane at scale, skip the long lead times, and bypass complex cross-functional projects through our ready-made solution.
Mitigate opportunity costs by integrating our trailer forecasting into enterprise wide decision support with proven cost savings and accuracy, which is backed by a data-driven approach and domain experts.
Ensure that linehaul managers can run smooth operations and operation managers will have more time to manage resources.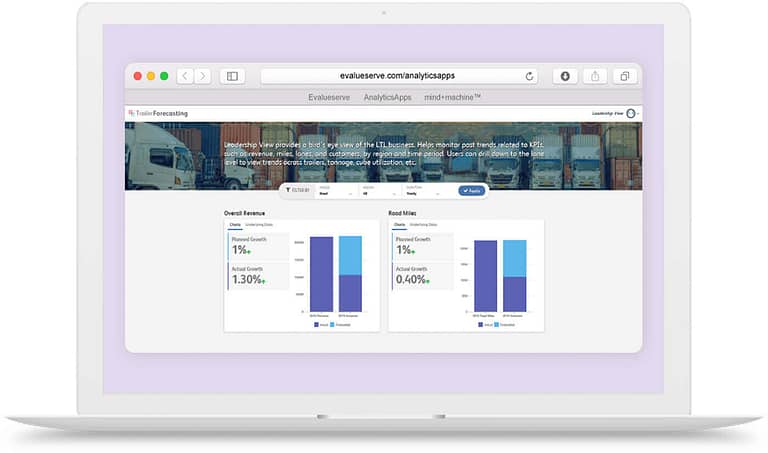 Data science and technology built specifically for Pharmaceutical commercial teams to devise competitive marketing tactic combinations in less time.​
Decreases the number of applications needed to effectively improve ROI through a combination of MMM and MSO.
Conduct your MMM and MSO assessment 3x faster through a full suite of cloud-based analytics modules.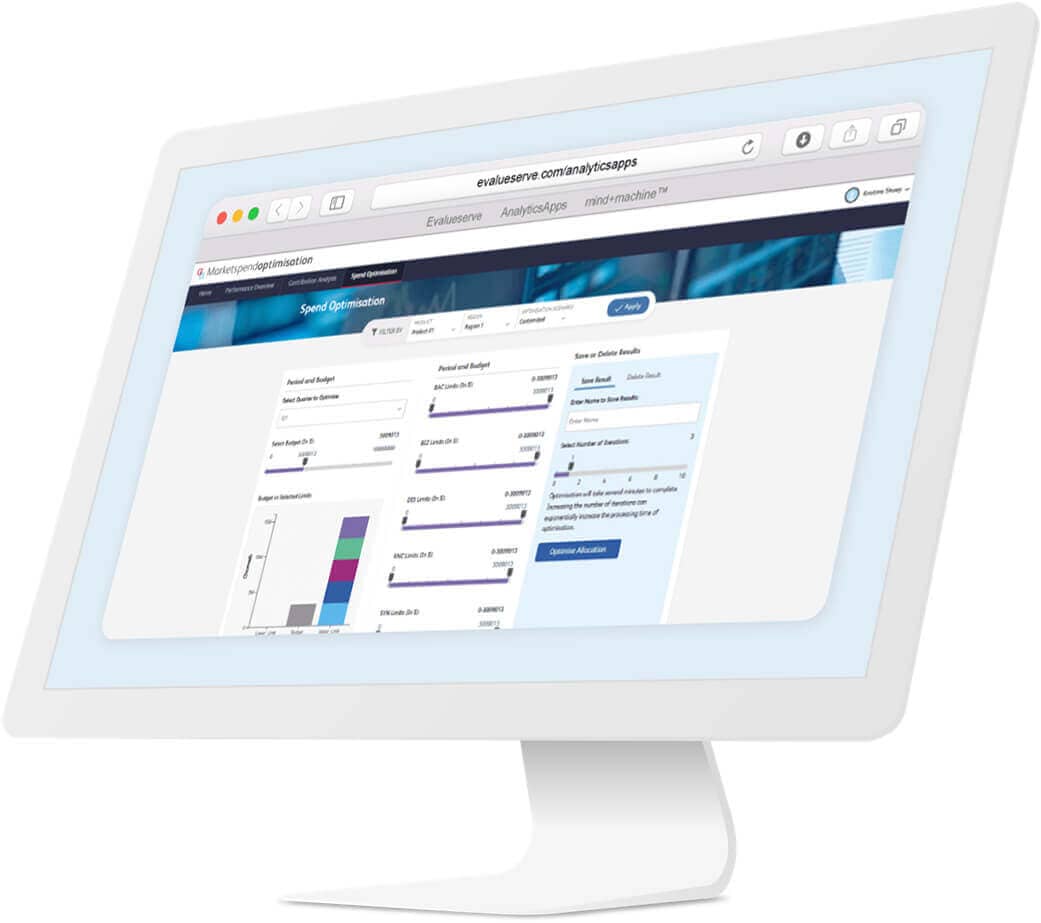 Related Resources
Optimize your outcomes.
Related Products
AI-optimized products that scale.
We offer a distinct suite of products with careful attention to client-specific agility and seamless integration into existing platforms.
Related Industries
Additional Industries.
Advanced Analytics Apps
Request a Custom Demo.
Get in touch today to find out about how Evalueserve can help you improve your processes, making you better, faster and more efficient.