Unlock intelligence.
Unleash opportunities.
Develop foresight. Create scale.
Lead the way with forward looking perspectives.
A Digital Platform That Empowers Professional Services Firms To Get An Edge In The Marketplace Through Differentiated Insights
Real-time and actionable Insights

Delivers alerts and analysis on trends, risks, and opportunities enabling you to stay ahead of the curve

Self-service + collaboration

Facilitates collaboration across business functions and geographies via customizable tagging, notifications, and chatbots

Intuitive & interactive dashboards

Provides features that help users slice and dice data, create customized dashboards, ask for bespoke research, etc.

One-stop centralization

Assesses insights and provides a single version of the truth on a centralized platform
LENS On Sustainability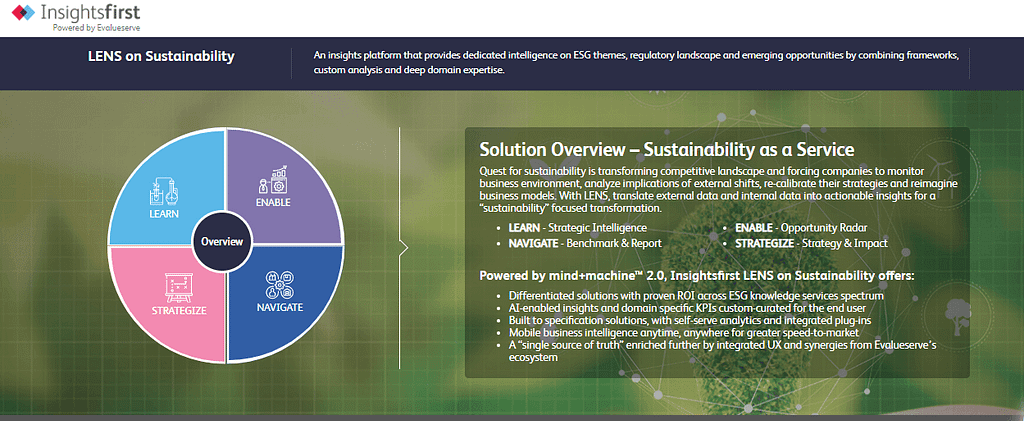 Powered By Mind+Machine™ 2.0, Insightsfirst LENS on Sustainability is a Collaborative Knowledge Services Platform Providing a 360⁰ View on Sustainability Through:
Differentiated solutions with proven ROI across ESG knowledge services spectrum
AI-enabled insights and domain specific KPIs custom-curated for the end user
Built to specification solutions, with self-serve analytics and integrated plug-ins
Mobile business intelligence anytime, anywhere for greater speed-to-market
A "single source of truth" enriched further by synergies from Evalueserve's ecosystem
Integrated UX captured by four functional modules (Learn, Enable, Navigate, and Strategize)
LENS on Sustainability provides professional services firms a customizable self-serve, one-stop collaborative solution by translating external data and internal data to enable a "sustainability" focused transformation.
Competitive Intelligence
Provides a Unified View Of The Competitive Landscape
Multiple parameters gauging CI through our Thought Leadership Library, Investments Library, M&A Dashboard, Social Media Footprint Analysis, etc.
Customizable dashboardsadapt to the needs of various user groups and their specific focus areas.
Whitespace identificationuncovers gaps in the market, which reveals growth and innovation opportunities.
Robust search interfaceclears the noise through real-time notifications and Email alerts, ensuring quick responses to threats and opportunities.
Opportunity Identification
Provides Potential Opportunities + Sales and Strategic Intelligence
Customized and curated list of opportunities based on specific needs of a partner/function – leveraging Mind Map framework.
Multiple collaboration optionssuch as tagging capabilities, request for real-time notifications and adding opportunities.
Robust search functionalityviews and analyzes opportunities, accompanied by an 'Add to favorites' option for regular tracking.
Bespoke request builder's'Ask the Analyst' option allows users to request for additional information on prospects.
Sector Intelligence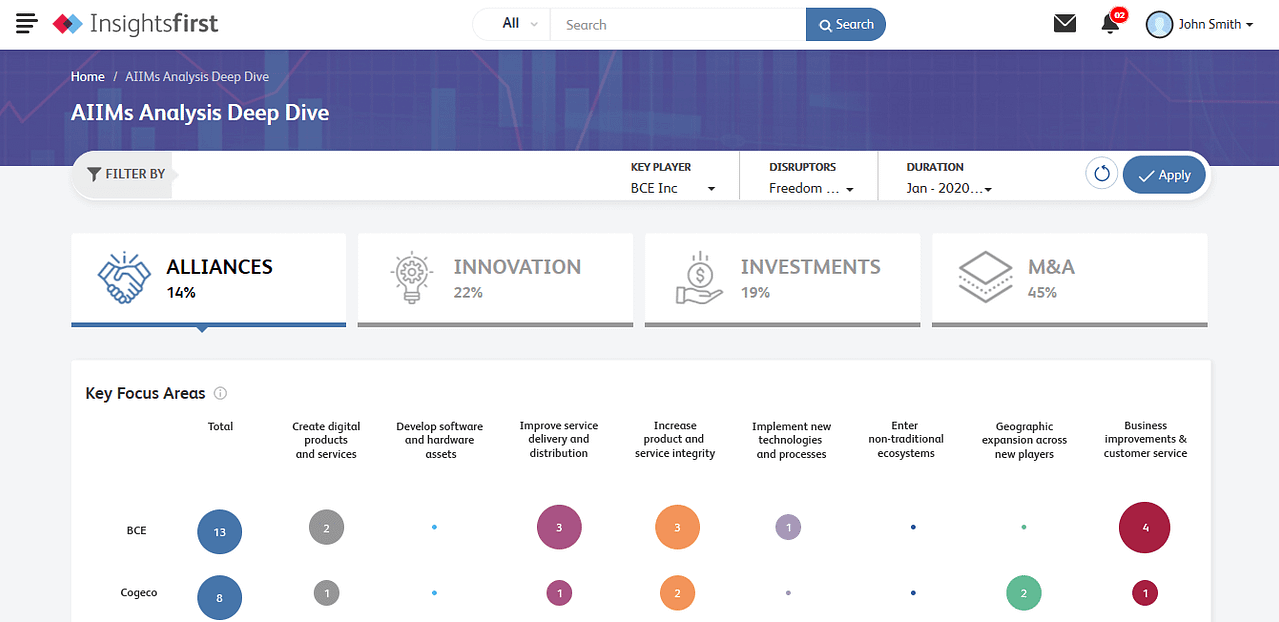 Provides Real-Time Insights on a Sector And its Key Players
Key players and disruptors are kept in-view through intelligence curated from multiple sources and real-time inputs.
Pre-defined frameworksused such as Sector Threat Index, Performance-Potential Matrix, AIIM framework (Alliances, Innovation, Investments, M&A) to analyze the sectors.
Real-time updates are given based on market movements, earnings release, key events, sector-specific news, etc.
'Add to My Pitch'for 'ahead of the curve' conversation starters with clients, aligning to service/practice area of the professional services firm.
Render existing materialin PowerBI, Tableau or PPT for easy integration of information to display and share.
An Intelligence Platform Powered By Mind+Machine™
Domain expert supervision
Talk to One of Our Experts
Get in touch today to find out about how Evalueserve Insightsfirst can help you improve your processes, making you better, faster and more efficient.
Contact Us